Here's some pictures I took from Bernie Bierman's 99th birthday bash which took place at The Metropolitan Room on August 26th. It was great fun to be there and Bernie came onstage to sing, play piano and tell jokes to an audience of about 140 friends and admirers. Some of the performers on hand to perform Bernie's compositions were Joe Bachana, Marty Silver, Kristen Sergeant, Jenna Esposito,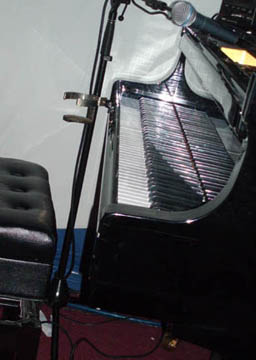 Marieann Meringolo, Steve Maglio. Domenic Guastaferro and Michelle Pirret with Ricardo Pedron (Incidentally, Michelle Pirret recorded a dynamite album of Bernie's songs a couple years back). The musicians at the show were Tony DeSare (piano), Ritt Henn (bass) and Bobby Sher (drums). The crowd was abuzz that Julie Wilson was in attendance and the room collectively went "ooooohhh" when Celeste Holm's name was announced.
Although I took many pictures of the performers onstage, some of the shots turned out too awful to post because it was dark and I was too far from the piano (and sometimes they made scrunchy-singer faces).
Don Dellair was kind enough to supply me this writeup of the event when I asked him for a list of "luminaries".... Some of the luminaries were; Oscar winner (for "Gentlemen's Agreement" starring Gregory Peck and John Garfield), Celeste Holm.. of course, her original fame came from the original B'way cast of the musical "Oklahoma!" in 1943... playing the role Ado Annie where she sang Rodgers & Hammerstein's "I Can't Say No" and I was one of the guests this past April for Celeste's 90th birthday party ....other luminaries; two time Tony Award winner Tammy Grimes (Best Actress in a Musical) for "The Unsinkable Molly Brown" and (Best Actress in a Play) for Noel Coward's revival of his play "Blithe Spirit"....also at the party, singing star KT Sullivan, and she is opening for her autumn engagement at the famed Oak Room of the Hotel Algonquin,she was there with her lovely sister singer Heather Sullivan and KT's poetry reciting husband Steve Downey.... another luminary in the audience,and preceding KT at the same Oak Room of the Algonquin Hotel Steve Ross, known as The Crown Prince of Cabaret,other luminaries include the hottest new jazz recording artist Nellie McKai, the one and only Miss Julie Wilson, plus cabaret singer Cynthia Crane, plus the wonderful Jamie DeRoy who always presents her cavalcade of other stars in her shows at the very same Metropolitan Room, plus Lesley Alexander director/adviser to the marvelous Andrea Marcovicci , this past season, and performed a fitting tribute to the late incomparable Hildegarde! she opened her show in Los Angeles at the Gardenia Room in West Hollywood,and made her way east with appearance throughout the US and Canada and finally arriving for a three month engagement of the Hildegarde tribute at the very same Oak Room of the Algonquin Hotel here in NYC...other luminaries at the party were; Gary and Yvette Negbaur (husband & wife recording artists), plus Donnie & Michele DuPont (young brother & sister singing team) who are on Bernie's CD that I produced called "The Other Half Of Me..The New Songs of Bernie Bierman"... also at the party were Broadway producers Michael Alden and Don McAlarnen....(their musical "Grey Gardens" just closed after a two year run), also ballad leader of the replica of the 1960's folk group The Weavers...James Durst with the new group called "The Work O' The Weavers", plus opera singer Frank Basile plus musical-comedy performer Lennie Watts, who recently played the Metropolitan Room with his tribute to Barry Manilow, plus singer Janet Fanale, plus world famous celebrity photographer Mark Rupp, also Lynn Lane (widow of the celebrated Broadway and Hollywood composer Burton Lane), plus Rochelle Mancini (performer and executor of Georgia Gibbs estate), playwright/actor Ellen Gould (she wrote and starred in the off-B'way smash hit "Bubbemeiser"), Michael Buckley, the famed show biz columnist who writes for Playbill OnLine, also Tony Award winner for playing opposite Danny Kaye in the musical "Two By Two" Walter Willison.