Big Band News 2003

Happy Birthday to singer Tony Martin who was 91 on December 25th.

Film and television actress Hope Lang died at a hospital near her Los Angeles home on December 19th. Hope starred in the television series "The Ghost and Mrs. Muir." She was 70.

Looks like there will be another book out on Dean Martin, this time by daughter Deanna. Jerry Lewis is authoring a book about his recollections on Martin and Lewis. If you missed the Larry King show featuring people who worked with Dean, you can read the transcript here.

Actor Art Carney died on Sunday, November 9th. He was 85. Carney starred in "The Honeymooners" with Jackie Gleason and also performed, for a time in the 40's with Horace Heidt's outfit as a vocalist
.
Famous dancer/actor Donald O'Conner died on Saturday, September 27. He was 78. Donald appeared in loads of films but many may remember him for practically killing himself with wall climbs and flips during "Make Em' Laugh" in "Singin' in the Rain." starring Gene Kelly in 1952.

Sinatra - the show, will be opening at Radio City Music Hall on October 8th for about two weeks. Never before seen archival footage will be set to a live orchestra. The process is called rotoscoping. The show promises "special guest appearances and dazzling special effects." On 60 Minutes II, radio host and long-time Sinatrafile Jonathan Schwartz said these archives were a wonderful find with Sinatra at his very best. He also commented "This was the most electrifying performer ... short of the Stones ... that you're likely to find. And I'd put him on the Stones' level ..."

Country singing legend Johnny Cash died on Friday, September 12, from complications of diabetes. He was 71.

Folks feeling nostalgic for Frank Sinatra would have enjoyed seeing the 2003 MDA Telethon hosted by Jerry Lewis on Labor Day weekend. Julius LaRosa opened his set with a popular Sinatra tune while Steve Lawrence performed two numbers from his latest Sinatra tribute album. Nancy Sinatra sang a song specially written for her famous dad and impressoinist /singer Bob Anderson began his set with an impersonation of Frank and that's just the parts that I saw! Other recollective performers were Don Rickles, Charlie Callas, Norm Crosby, Charo, Jack Jones (who sang his hit "Wives and Lovers" – Sinatra covered that song too) and even one of the tap-dancing Nicholas Brothers, among many others.

Tap Dancer/Actor Gregory Hines died of cancer on August 7. He was 57. Hines and brother Maurice had an act with their father called Hines, Hines and Dad.

Bob Hope has died at the age of 100. The famous comedian with the quick wit and fast delivery was too famous in the 40's and 50's to appear in these nightclub reviews. Always in demand, Hope kept busy doing films, radio and television. In 1936, he was the first to sing "I Can't Get Started," in the Zigfield Follies. That song was later turned into a big band anthem by bandleader Bunny Berigan.

Acclaimed big band jazz musician Benny Carter, whose career began in the 1920's is dead at the age of 95. Carter began his first band in 1933. He also performed with Benny Goodman, Fletcher Henderson and Duke Ellington among others.Dancer/Actor Buddy Ebson has died. He was 95. Ebson began his exceptionally long carreer with MGM back in the 30's and went on to become a major television star.

Comedian Buddy Hackett famous for his bulging eyes and puckered lips has died on June 30th. He was 78. Hackett originally gained fame with his routine as the Chinese Waiter. He appeared in films like "It's a Mad, Mad, Mad, Mad, World" in 1963 and "The Love Bug" in 1968, was a regular on The Hollywood Squares and later, a spokesman for Tuscan Ice Cream Pops.

Birthday wishes to Salvatore Gioe, who is 95 on Sunday, June 15. He was Hildegarde's accompanist and arranger. Gioe also was featured at The Versailles club in New York and is mentioned in the Dick Haymes review on this site. Before that he was a pianist with the Shep Fields Orchestra.

Frankie Laine is 90 years old on Sunday, March 30th. There will be a celebratory luncheon in the singer's honor at the U.S. Grant Hotel in San Diego. The public is invited to attend. Details can be gotten at FrankieLaine.com

On February 2nd, the Big Band Hall of Fame in Palm Beach, Florida inducted disc jockeys Denny Farrell, Gregory Sherlock,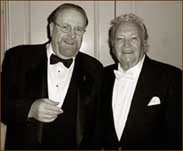 Mike Rapchak and onetime big band radio station owner Bob Lappin in a black tie event at the old Colony Hotel. Entertainment was provided by the Robert Thorpe Orchestra and former Jimmy Dorsey and Sammy Kaye vocalist Cliff Ayers. Pictured are Denny Farrell (left) and Cliff Ayers.

Longtime New York radio personality Stan Martin of WQEW AM "The Home of American Popular Standards" died on Tuesday, January 28 from complications following a stroke. Stan started out many years ago with "The Milkman's Matinee" on WNEW, the station of the stars in NY and Stan has always has been known on the air as "Music Man Stan."