You've got to admire bandleader Desi Arnaz for not fearing to be teamed-up with showstopping partners. Years before he played opposite wife Lucille Ball as Ricky Ricardo in "I Love Lucy," he was teamed with film actress and Puerto Rican bombshell Diosa Costello. Desi closed the show but Diosa was more in demand at the time of this review.
Tips on Tables - Robert W. Dana - March 23, 1948
Desi and Diosa Rock Roof at the Harem
History doesn't always repeat itself in the selfsame way. That is, as far as nightclub, entertainers are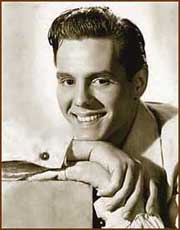 concerned. It was about nine years ago at La Conga that Desi Arnaz and Diosa Costello stirred up a tempest of rhythm before a cafe society looking for new thrills and getting it. George Abbott, a great rumba fan, was a nightly visitor. How could the kids lose?
Thanks to Abbott, they didn't.
He put them on the stage and since then they have gone their separate ways, in movies, on stage and in night clubs. Diosa's been seen all around town, always a dynamic show-stopper. Desi's only previous local night club engagement since La Conga days - at east in my memory was with his band at Copacabana.
Work Separately.
Now the, kids, slightly grownup and Desi for one, a little stouter but more handsome for It, are together at the Harem, the big Broadway club with the bright, fast-paced revue of some months duration. I say together. Actually, they're not, for the probable reason that they're afraid to steal each other's thunder-and, brother, it's thunder of a musical rhythmic sort.
Too bad, in a way, that entertainers have to become stars. Nothing would have been nicer than to see Desi and Diosa work together. The Harem's show would be stronger for it. However, it's plenty strong as it is.
Diosa, in a dream gown of red shade, is no laggard when it comes to doing, her specialty - torrid singing of Latin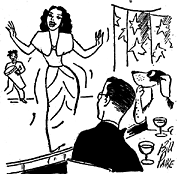 numbers and reverse bumping all around the ringside. One of her specialties, too, is overdrawing her stance to create a caricature. With a headful of flying brunette tresses and a body charged with high voltage, she is something to see. A special treat was offered the customers the other night when her husband, Pupi Campo, the band leader, came up and ad libbed a rumba with her.
Defends Rumbas.
Desi Arnaz, in a stunning blue suit, navy blue tie and Costello cartoonwhite shirt, is a fascinating caballero. He is completely at ease and has good timing. The two high points in his program are his singing of "Tabu" as he accompanies himself on the guitar, and a lively defense of Latin-American rhythm in "North America Take It Away."
He opens the last by taking apart the song, "South America Take It Away," slating that his sacroiliac was never injured by the rumba, but that the American lindy hop was enough to put him on the shelf. He then called forth a blond charmer to help him illustrate.
It is a well-thought-out number, but about a year too late. For, outside of Harlem, I seriously doubt if the lindy or other forms of exaggerated American rhythms are seen except on rare occasions. Inasmuch as the song, "South America, Take It Away" is also Just about ready for the shelf, Desi really has no argument to pick.
Altogether, the Harem's show is lively and entertaining.