Robert W. Dana - December - 5, 1961
Duke Ellington and a 15-piece orchestra were the big noise, music and orchestrated sounds last night at the Basin Street East. In 18 dynamic numbers, many of which he composed, the Duke let loose a barrage of instrumentalists and a singer the like of which isn't often one's pleasure to hear.
From his "Asphalt Jungle" to the closing "Jones,"this big band hit it high and low, plain and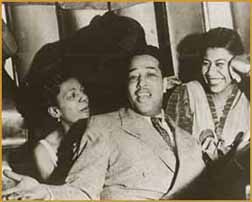 fancy, with much emphasis on solos, by such as Johnny Hodges on the alto saxophone, Cat Anderson, just returned to the fold, Paul Gonzalves on tenor sax and Harry Carney on baritone sax.
Being an admirer of old tunes, I really appreciated Cat's interpretation of "All of Me," with Hodges taking a solo, and Duke's own playing on "Satin Doll," followed by his greatest composition, "In My Solitude," a thing of beauty.
Full Band Sound.
Outside of the fact that Ellington gives you the full big band sound at Basin Street East, this engagement is most notable for the introduction of a young singer named Milt Grayson. The Duke gives him a big play and he uses it for all he's worth - and that's plenty- in "Love You Madly," "Why Was I Born?" and others.
Grayson has a natural and warm full-spirited style. He uses no tricks and he has no use for them. He has the potential for greatness.
I like the way the Duke, ever accomplished at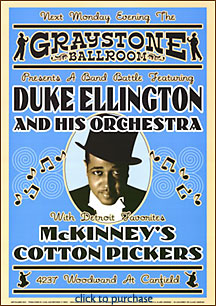 the piano, kept himself in the background to let his musicians gather in the applause in the making.
Old Master.
And yet when he sat down to play "Don't Get Around Much Anymore" and "Mood Indigo," with clarinet, sax and trombone providing a proper background, here one could enjoy a master from many days back. From the days, I recall, when I used to enjoy in a college fraternity house's recording of "Three little Words."
The Wellington performance was preceded by Larry Storch, a well-liked comedian, whose imitations of people in the news are documented with great fun in a series of sketches.
Also, Basin Street East presented Gloria Lynne, a former Gospel singer, who tried hard and perhaps too valiantly last night.