Tips on Table May 8, 1958
Celeste Holm, a lovely lady who has proved herself equally accomplished in the theaters, movies, television and cafes, last night selected the latter medium for a return engagement at the Persian Room of the Plaza. In an intelligent, cohesive act with the theme of "What Does a Man Want in a Woman?" written by Ruth Hughes Aarons, Miss Holm followed the course of early romance, the familiar sequences of mutual criticism that follow the jolly elements of topical significance that lend a zestful flair to the life of us all.
Tall, slender, blonde and beautiful, Miss Holm appeared first on the left balcony in a Robert Mackintosh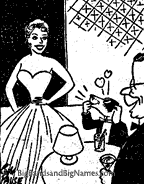 white jersey gown with long sleeves and high neck of Grecian influence. She stood there and put her question in song, and for most people in the audience, the answer was "We want everything in a woman that is you tonight."
Since Celeste Holm is known to be as clever a comedienne as she is a straight singer, from the days of her break-in as Ado Annie in "Oklahoma" to her clever role in a movie like "The Tender Trap"on wondered what shape the theme might take.
Natural Shape.
It took a natural shape, with the earliest portions of the show building on a pleasant foundation of romance, with the telling of such connected by such songs as "I Like the Like of You" and "I've Grown Accustomed to His Face."
And then, accustomed to each other, they speak their minds a bit. She doesn't like his ties, he her coiffures. She hates his pipe and he doesn't think her cooking is so hot. But, they bother aver, "Believe Me, Darling, I Love You."
Those who have heard the sound track from the movie "Gigi" and relished the score by Lerner and Lowe will doubtly appreciate the way Celeste Holm sings "I Remember It Well." Even without a Chevalier to interject his lyrics in the number, it emerges as an impressive piece of reminiscence about an old and continued romance.
It is the middle of the program now and time for Miss Holm to switch over to some comedy nuances in "C'est la TV," a parody of Cole Porter's "C'est Magnifique." Here again is a story of conflict man and woman with respect to their preferences in life's story as it is told via the home screen. It's a facile merging of good music and a worn topic.
Beautiful Music.
I like Celeste best when she's singing beautiful music. Hence , I like best her medley of "Some Enchanted Evening," "Now Is the Time" (based on Tchaikowsky's second movement of the Piano Concerto in B minor), "They Can't Take That Away From Me," "Close as the Pages in a Book" and "All of a Sudden My Heart Sings."
The performance ends with two rollicking comedy pieces. The first begins with a fetching interpretation of "I'm in Love With the Honorable Mr. So and So" and segues to rock 'n' roll. A gem is the tale of the guy inquiring about a Sally Lou Higby he used to know and how he falls in love with her again as Temple Fire, a rock 'n' roll queen.
The finale, with musical director George Kent lending a fine touch at the piano and the men of Ted Strater's band strutting behind a Celeste Holm in tights, the orchestral arrangements of David Terry achieve a rousing climax in "Twenty-Two Different Dames," parody of "Seventy-Six Trombones."
Celeste Holm is everything a man wants in a woman the way she presents her case in the Persian Room of the Plaza.