Tips on Tables - By Robert W. Dana - October 13, 1947
Wearing a miniature-piano ring fashioned of platinum and studded with diamonds and playing what is said to be the world's largest concert grand piano, Liberace (pronounced Liber-AH-chee) returned Thursday to the Persian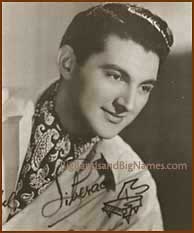 Room of the Plaza. The evening also marked the local debut of the young dancers, Marge and Gower Champion, and the return to the Plaza bandstand of Joel Herron and his orchestra.
By way of introduction may I say that Liberace, like Hildegarde, hails from Milwaukee, that he looks like a cross between Robert Alda and Cornel Wilde of the movies, that he dropped his first name. at the suggestion of the late Paderewski (who did the same) and that he has 188 miniature pianos. I might also add that he has a press book that is so extravagant in material that's It's difficult to choose between adjectives.
Custom Built Piano.
The concert piano he plays at he Persian Room was custom built before the war by Julius Bluthner in Leipzig, Germany. Despite the express strike, it was delivered the last minute, in time for the pianist to make the grand entry and take his seat at the piano as, electrically lit candelabra slowly glowed to life.
Liberace has masterful stage presence, a twinkle in his eye, a good grasp of humor that seems natural and, of course, a brilliant touch at the piano. He needed all of the human props as well as the manufactured ones opening night because the dancers had received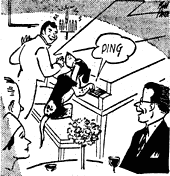 an ovation, but he was equal to the task. He opened with Liszt's 14th Hungarian Rhapsody just to show the crowd he knew how to play good music, then he played a popular duet with Joel Herron, the latter pounding away in the background. Herron played at other times too, but his efforts were lost in the tones of the larger piano.
Help From the Audience.
The piano virtuoso closed his program with two excellent audience pleasers. First, he asked persons what they would like him to play and put several of the requests into one continuity, improvising and making them seem like true segments of a symphonic score. Then he invited a woman to sit beside him at the piano and help him play a classic. Her contribution was to hit one note, at a given signal, in exchange for which she received a miniature piano made of cardboard, which, after all, isn't as fragile as Hildegarde's roses.
When the current cafe season is over, it probably will be said that Marge and Gower Champion offered the most refreshing new kind of ballroom dancing seen here In many years. They borrow from nobody, yet their dancing is essentially simple. Perhaps It is just that Gower Champion has the flying grace of Fred Astaire to match the footwork of Tony DeMarco. I say he's the most talented young dancer in the country, and his wife, Margie, fits into his dance plans with just as much talent and charm as is needed. Let them stay In love forever and we will be richly rewarded.