It's unlikely there are many performers who ever took a better picture than Lisa Kirk. These photos evidence that she must have been a stunning presence. Born in 1925 in Charleroi PA (*a press kit I have reported Charleroi as the birthpace, but I have since been informed she was born in Brownsville, PA) , she attended high school in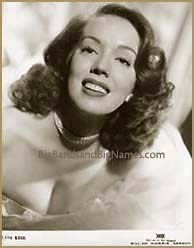 a town called Roscoe, outside of Pittsburgh. Ms. Kirk had enrolled as a law student at the University of Pittsburgh when during a trip to New York and a stay at the Rehearsal Club, she abandoned Blackstone for the Versailles chorus line. It wasn't long before Lisa was starring in such Broadway musicals as "Allegro" and the 1948 production of "Kiss Me Kate."
An e-mail correspondent sent me a recording of her Plaza performance. Perhaps the very performance reviewed below. I was surprised to hear how powerfully she sang. Sort of with a Sofie Tucker-ish delivery. More of a "belter." You know... a stage performer. Although Ms. Kirk recorded albums, her style seemed best suited for live performances, which is why she was in such demand in the NYC club scene.
Tips on Tables - By Robert W. Dana - September 18, 1958
In her eighth return engagement last night in the Plaza's Persian Room, Lisa Kirk captivated everybody with the dramatis scope of her personality, illuminated by song, costumes, lighting, writing, musical direction and staging. Lisa was magnificent, opening with the froth of Robert Well's special number, " I Travel Light," and concluding with a colorfully contrived musically apt journey to "Far Away Places."
Nobody has ever accused Miss Kirk of having designs on opera or the concert stage. Yet, last night, her full-spirited voice was as pretty to the ear as any notes I've ever heard in many a moon. Her acting, confined to cafes and the musical stage in some successful Broadway appearances, was as thorough as a theatergoer, certainly a cafegoer, would wish.
In trying to come up with something new these days, cafe entertainers are inclined to stretch their act to the point of burlesque. When I heard that Miss Kirk would have four singing and dancing boys with her this time, I had grave fears. These proved groundless, as Jim Brooks, Jimmy Harris, Jerry Rush and Scooter Teague demonstrated.
Harem Skit Gown.
As Lisa traveled light in a glamorous, bell-shaped harem skirt gown of white satin organdy, its bodice exquisitely beaded in pearls and rhinestones, the boys waved her hatbag with the telephone in it and brandished suitcases with champagne and a TV set.
She next was "Sitting on Top of the World," almost floating as her skirt concealed the strong arms of her bearers. Then the boys disappeared, and Lisa removed the skirt to reveal a strapless sheath glittering in jeweled embroidery. Her musical director, Peter Matz, leading Ted Straeter's orchestra, gave the nod for "Anything Goes" and Lisa was alone.
Alone, in a change of mood, with tender, romantic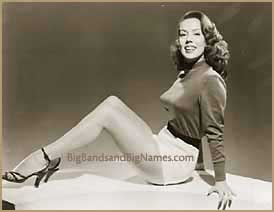 lighting, she sang "HI Lili" which was so utterly delightful it was astounding to realize she could be just as delightful in another way with her telephone number, "Too Marvelous For Words"; "Why Can't You Behave" and Bob Wells' special number, "Good Little Girls."
Staged By Charmoli.
Staged by Tony Charmoli, with original music by David Saxon, Miss Kirk's performance, fascinating as it is throughout, probably will be remembered best for its finale/ "Far Away Places," in which she visits the Riviera in a brilliant yellow satin evening wrap with matching fox, goes Spanish with serio-comic overtones in a Spanish flamenco gown and concludes with an exciting interpretation of "Limehouse Blues."
The boys join her in this finale, always embellishing the act, never cluttering it up. They say Miss Kirk loves her work so much she never takes a vacation. If this be so' let nobody gainsay her this privilege, for her performance in the Plaza's Persian Room is one that must be recorded among the greats of our time.
Ms. Kirk was married to sketch artist Robert Wells. Although she didn't smoke, she died in 1990 from lung cancer. Her funeral was in New York City.
Here's a email from Donald Pippin who was nice enough to let me reprint it here for all to read:"Update for Lisa Kirk. I took over as musical director in 1958 from Peter Matz (now deceased). Pete had opened Lisa's act at the Plaza Hotel. I ended the run with Liza and the 4 Saints and then toured with her to Huston, Dallas, San Francisco, New Orleans. Las Vegas, London and others. She was a true cabaret star. It was in her blood and she could do not wrong. She gave 150% to every performance. The four Saints and myself had many evening of fun after the performances. Lisa loved to plan surprise parties. Especially if it was someone's birthday. She did this to me in Las Vegas. She was clever. Her act was such a success that MGM records signed her to record it. I was the musical director for "Lisa Kirk at the Plaza" with the four saints. It was a studio recording, but Bob Wells, her husband, wanted a "live" feeling so friends were invited for reactions and applause. Nothing was canned. This album is a collector's recording today. The mono version was reissued in the UK in the early 60's. The stereo version was issued only in the USA. I have found copies on E/bay on occasion. Lisa's last recording was with me in a live performance in London of Cole Porter's, "Nymph Errant" in concert. She sang the delicious "The Physician". Tho' she was unknown in London, Julie Wilson had done her role in "Kiss Me Kate", Lisa stopped the show with her unique comic performance of "The Physician". The rest is history. They don't make 'em like Lisa Kirk any more. R.I.P. , Lisa. Love ya always, Don Pippin".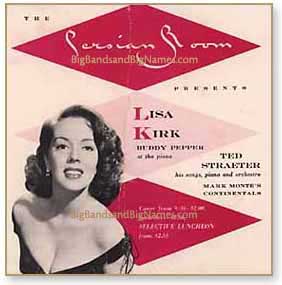 Click the image below to watch a video of Lisa Kirk singing about her Oldsmobile!