Tips on Tables - Robert W. Dana - March 30, 1951
Sparking the greatest mirthquake in the history of show business, Jimmy Durante returned last night to the Copacaba and, before he was done, threw everything but himself at the musicians and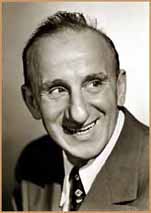 service staff and had hats raining from the ceiling in the best balloon-night tradition.
The much-loved Schnozzola accepted the introduction of "patron of the arts," doffed his first fedora and revealed a brown toupee.
"Them bosses should hang by the rope," he said. "Look what they made me wear. They said I'd be surrounded by beautiful women, but all I see are glue salesmen."
The Profile.
Throwing it away with disgust he added, scratching his own sparsely-clad pate: "There's not much there, but every strand has a muscle."Whereupon he turned towards the advancing girl photographer and consented to have his picture taken.
It was the same old Durante, only better than ever. First, the long opening "You Got to Start Out Each Day With a Song," in which he digresses every bar or two to catch his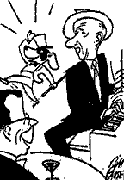 drummer off guard with a hunk of piano or a sheaf of music and refers to the ringside-bordering imitation Jimmy Durante at the palm trees as hollow pipe lines that shoot the bosses' money direct to the bank.
Jimmy has a wonderful new number about a telephone conversation with a blind date. To be or not to be is the question as to whether he should tell her about his nose - "Say, I wouldn't say I was handsome; it's kind of hard to put it in words." When she finally gets to meet him, she remarks he must have came so fast he must have forgot to hang up the telephone.
Saucy Nonsense.
Reviving last season's saucy nonsense with the chorus girls garbed in sport togs and revealing sweaters, he joins them in a conga line and says: "I don't know where it's going, but I'm sticking with it. The girls also assist him in his own Easter parade of hats, which requires the whole busboy crew to clean up. Then his old partner Eddie Jackson, comes on to sing and hoof and help rock the place. In a hilarious rendition of "Umbriago," Eddie is told to go to Lindy's and not return until he's marinated and the boys of the band,section by section, are told to leave because they're not needed, winding up the show in amazing fashion.
There is an awful lot of show before Jimmy appears. Toni Arden, the singer, is wonderfully appealing in a number of song moods; the one and only Marie Gambarelli presents ballet art in vivid, dramatic fashion, and Beverly and James Paycee offer some arty ballroom lifts and a spinning-top impression. You couldn't see a more rewarding night-club shoe.