Along with his endorsement of Vic Damone's performance, Mr. Dana devoted a good portion of this review to dancers Marge and Gower Champion. Opening act Joey Bishop received words of encouragement but Vic's army buddy Burt Bacharach got his name misspelled (Bert Bachrach) for his first mention in the papers. His thank-you letter appears below which may have doubled as a reminder to Mr. Dana on the correct spelling. Anyone who saw all these future stars together must have talked about it for years.
Tips on Tables - Robert W. Dana - May 22, 1953
His tour of duty behind him, Vic Damone is back on the cafe ball at Bill Miller's Riviera enriched, not bothered and certainly not bewildered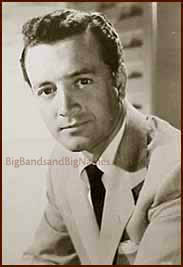 by the happy change to civvies.
On a sterling new entertainment bill that features the return of one of the country's class dance teams, Marge and Gower Champion and Joey Bishop, a brave comedian to open the show. Vic gives the finest performance of his career and then toasts the life and the people he just left.
There is no doubt about Damone's maturity before his military duty. A top performer in cafes, hotel rooms, on records and in movies, his gloss and ease of showmanship gained through diligent apprenticeship since his emergence from his Paramount Theater usher's days was quite apparent.
Pearl-Gray Tuxedo.
His maturity now will have opportunity to settle in its mold, when I predict he will be the top male vocalist in the country. In a fresh engaging way he's throwing out his challenge in his Damone tuxedo, a pearl-gray affair with black lapels and cuffs.
He's backing up his case with an unaffected but polished style and strong, clear singing of numbers like "They Say," "Will You Still Be Mine?" "April in Portugal," "Where Or When" and "Gypsy In My Soul." Then after acknowledging the fine piano accompaniment of Bert Bachrach Jr. and Walter Nye's band, he toasts his Army life with "I Never Had It So Good."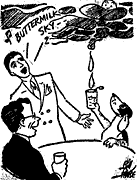 Hollywood has done wonders for Marge and Gower Champion. Always professional, youthful and original in past appearances in local cafes, they now are dazzling thanks to some expert arrangements and thoughtful choreography, Their accompanist is Richard Pribor.
Five Beautiful Numbers.
They did five beautiful numbers: "Let's Dance," "The Clock" (to "Time On My Hands"),"County Fair," "Margie"and "Meeting Time."
Joey Bishop, billed as the unhappy humorist, makes the most of his unhappiness to make the audience happy. He serves well his duty to warm up the customers. Also helpful in pre-show dance sessions are the orchestras of Walter Nye and Pupi Campo.