Tips On Tables – Robert W. Dana - September 17, 1954
Julie Wilson, home from London triumphs, was the selection of the Plaza to open the Persian Room's season last night. How she looked what she did

and what she is – a fine American girl from Nebraska – was impressed upon a packed, glittering first-night audience in an hour-long performance.
The wide-eyed brunette with the slicked-back hair and well-proportioned figure was her most devastating in a Balmain white satin sheath very decollette, glittering with silver, black and white crystal jewels and dramatized by a large black satin pouf that fell in a train.
What she did was a revelation, even for her fans. Her showmanship, delivery and general depertmant must have seemed to them, as to me, fuller, more wide open, less coy than in the past. A great part of her program is made up of new numbers, much of it specially written. But, lest folks might think she's gone up in the clouds above them, she disproves it with a Alan Foster number, "Don't Let Julie Fool You," the essence of which is that she's still a Nebraska gal.
Punch Liner.
Mr. Roberts is responsible for her second number, "He Was Wonderful," a clever vignette on a familiar theme – girl has a few drinks, meets a chap who wants to show her a view and so on. Punch ending to this one has to do with a sister angle.
Number 3 in Julie's program is a honey. She comes back from London and discovers the mambo. Its rhythm and its gestures are foreign and suspicious to her when her sweetheart is illustrating with another girl. It's a very strong song, beautifully handled.
The writing skill of Phil Moore, the prominent pianist is well known. It's particularly accented in two numbers of his that Miss Wilson does. "Pagliacci Had Nothin' on Me" is a torch song that demonstrates the facility with which she can change her mood, rhythm, style and vocal intonations. "Money, Honey" is a sophisticated and amusing discussion of high finance's relation to romance.
Girl From Nebraska.
Julie sang song after song, each becoming a little more directly concerned with the state of a man in his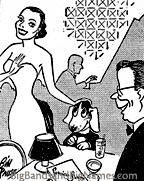 relation with women. "Bad, Bad Woman." "Everybody Needs a Dad-Dad Daddy," "Twelve Good Men and True" and "Man Could Be a Wonderful Thing" all helped demonstrate that more Nebraska girls should emigrate to New York.
Ted Straeter and his band did a tremendous job of playing the show. They and julie sounded as if they'd been doing these numbers for many weeks together, that's how slick it all came out. Ted's band alternates with the popular Mark Monte and his Continentals for dancing.