The Latin Quarter was packed at 2 o'clock yesterday morning, an honest testament to a splendid show starring the Mills Bros. in their first New York cafe appearance in 10 years. Betty George, the stunning Greek singer;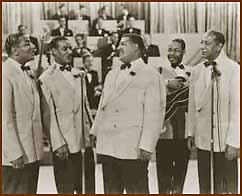 Helen Wood, the sparkling ballerina; Dave Barry, the geneial gentleman of comedy, and Monsieur Gautier and his steeplechase performers help make this addition of the finest exhibits Lou Walters has presented.
Although many years have spun by since the Mills Bros. scored their first success, nothing is dated about their work, even in an era awash with singing quartets. They are so relaxed and amiable that the rhythmic beauty of their harmonizing comes across with the smoothness of gentle flowing water.
Three of the boys sing, while one plays guitar, as they render such favorites as "Till Then," "Glow Worm," "Paper Doll" and "Suddenly There's a Valley." Their versatility is best expressed in "Basin Street," which they interpret vocally and with instrument effects achieved by cupping the hands over the mouth.
Beautiful Brunette.
When you hear Betty George sing "Let There Be Love" you will agree that there couldn't be a more influential spokesman for a subject of such importance. And I daresay every man in the Quarter will relish the beautiful brunette's handling of "I Wanna Get Married."
I found myself laughing heartily at Dave Barry's sharp lines, some of them sneaked in so cleverly that they have a delayed action effect. He is even more arresting with his uncanny takeoffs of Arthur Godfrey and Liberace.
Miss Wood, who sparkled on Broadway in "Gentlemen Prefer Blondes" and "Pal Joey," fits exquisitely and most gracefully into the production numbers, with the lovely Latin Quarter beauties stimulating even the tiredest eyes with their costumes.
Amusing Animal Act.
Everybody loves an animal, particularly a dog and a pony. Monsieur Gautier, a quiet but effective ringmaster, leads his four ponies and four fox terriers through some amusing precision routines, with the monkey of the family coming on for the last laugh.
Possibly the most outstanding attraction in a pageant in which no living person or thing appears. Called "The Syncopated Waters" and presented on the club's high backstage,it is choreographed fantasy by Hans Hasslach of waters that frolic in all directions and in all colors.
Four handsome chaps called Beau Brummels and a pretty violinist named Dorothy Vernon add their talents to this splendid show, with fine orchestral support by the Joe Lombardi group, which alternates with Buddy Harlowe's crew for dancing.