Tips on Tables - by Robert W. Dana - December 18, 1959
Like a mirror, in which great artists of show business appear in abundance and recognized artistry,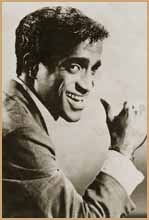 Sammy Davis Jr.'s latest performance at the Copacabana, which began last night reflected with well-planned conception and masterful execution the many facets of his own gifted talent.
Surely, there is no other person who, as the Copa so aptly puts it on the face of its table card, works such miracles of song and dance and impressions of great performers. Out of a small body, with a waistline a high-fashion model might aspire to, comes such richness of tone, such high voltage movement and such facile wit as to astound even the most inveterate cafegoer.
With Paul Shelley and the Copacabana orchestra augmented by a group of Sammy's own musicians and directed by his clarinet playing conductor, Morty Stevens, Sammy opens with a special arrangement dedicated to New York town, in which cordial mention is made of the preceding star, Tony Bennet.
Bow to the Fiddles.
He recalls Fred Astair's earlier dancing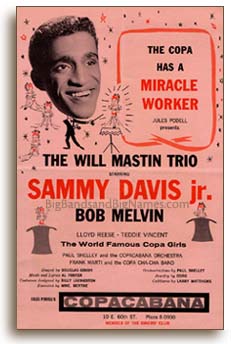 days in the movies with an engaging version of "Change Partners." Then bowing to the fiddle section and stating it is the only time they'll be heard all evening, he sings "When I Fall in Love." Blue are next on Sammy's schedule, with a big Sammy at the trumpet sendoff followed by a cavalcade of blues. Then with a warning that he's doing it for fun, he goes into his impersonations, from Sinatra singing "Road to Mandalay" to Jerry Lewis singing "Rock-a-By My Baby."
With a good natured kidding of Sinatra, and his big hit "All the Way" he sings the number the way Nat Cole, Tony Bennet, Billy Eckstine, Vaughan Monroe, Jimmy Cagney, Marlon Brando, Louis Armstrong and Dean Martin would.
Jam Session Finale.
Spearing some special tap shoes with a sword left over from some mythical duel, Sammy taps his head off to "Fascinating Rhythm." He then sing the most poignant number of the evening, "The Clown," does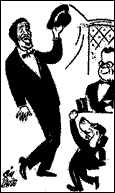 his boat leaving for the New York number from the movie "Porgy and Bess" and winds up with a jam session in which he plays the vibraphone, piano and trumpet. Surely nobody can say less of Sammy Davis Jr. than that he is great.
As its opening act the Copa is presenting a new comedian, Bob Melvin. Off to a painfully slow start, he punched away until he had at least 80 percent of the audience with him at his clever finale. If the audiences will give him half a chance he can go a long way.
Pictured above is a flyer from Sammy's Copacabana performance complete with oversized head on cartoon body which was a popular art style at that time. The Will Maston Trio (including Sammy's dad) is still dancing in the background during performances but didn't seem to warrant a mention in this review. Below, an interesting letter addressed to Mr. Dana entitled "Moral Behavior." I blocked the last name and street address from the letterhead and signature but the author (Richard A...) is questioning Mr. Dana for "plugging" Davis because at this time, he is about to marry blonde Swedish actress May Britt. Remember Sammy was compelled to stall his wedding day until AFTER Kennedy's presidential inauguration. This was a tough time to give this act a glowing review.