Tips on Tables - Robert W. Dana - August 25, 1961
The cacophony of excessive orchestral arrangements, with the microphone as a willing accessory, laid waste to the robust talent of youthful song stylist Della Reese in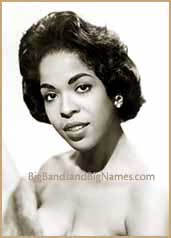 the early going of her return engagement last night at the Copacabana.
Fortunately, the curvaceous, excitedly gowned girl with the beehive hairdo took possession of her program at the midway point, flashed personality in some poised rencontres with her audience and used her voice as the instrument for which it was intended in more restrained renditions.
Clipped Accents.
Admittedly, a performer today seems destined to open with a flurry and a flair, but the clipped accents and overpowering manner in which Miss Reese treated her opening number, "Getting to Know You," was not only alien to the mood of the lovely number from "The King and I," but it became lost in the noisy exuberance of the orchestra.
Overpowering, too, was the treatment of the second number, "Still of the Night," with no finesse; and the microphone still annoyed, if less loud, on the third, "Don't You Know?"
Formerly a gospel singer with the celebrated Mahalia Jackson, to whom she gave a sincere tribute to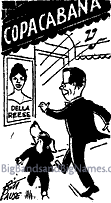 last night, Miss Reese began to put herself across with "Nobody Till Somebody Loves You," slipped a little with a distorted version of"Always True to You in My Fashion" from "Kiss Me Kate," and then really rang the bell with the remainder of her program. The clipped accents and a staccato rhythm characterized her treatment of "Lady's a Tramp," followed by the lovely spiritual,"His Eye Is on the Sparrow."
Coming Greatness.
"You Made Me Love You," the dramatic "Far, Far Better" and the concluding "Bill Bailey" reveal solidly the coming greatness of Della Reese. She has tremendous force, verve and full-bodied voice. All she needs is restraint in the proper places.
Comedian Mickey Deems was introduced earlier as the "American well-dressed man," a conceit that was quickly destroyed with some disarray of his costume. His main comic theme was a tale of Sunday-out with his kid. An amusing guy, who got a good hand and didn't overstay his welcome.