In 1927, Canadian bandleader Guy Lombardo and his band, red-hot favorites in Chicago, arrived in New York not sure of success. It was before the day of network radio and Manhattan only knew of them vaguely. In time, Lombardo and his Royal Canadians would forge a wall of hit records, many penned by brother Carmen Lombardo who performed in the band along with brothers Liebert, Victor and sister Rose Marie. Another brother, Joe, decorated the set.
Tips on Tables - By Robert W. Dana - Feb. 19, 1957 -
The announcement that Guy Lombardo Is leaving the Roosevelt Grill after Saturday night and that Eddie Lane's Orchestra will occupy the bandstand starting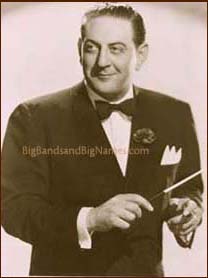 Monday has started some old rumors. Lombardo has performed at the grill since the fall of 1929, when he inherited the baton of the late Ben Bernie. Since then Guy has become so identified with the Roosevelt that it's hard to say whether Lombardo made the Grill nationally famous or whether the Grill made Lombardo a household name. Each year, when Lombardo departs from the Grill, the question arises: "Will he come back?" This year the speculation has increased, to the extent that a columnist has, wondered whether Guy is retiring from the music field.
Top of the Heap.
Well, as Yule Bryner would say, "There's a puzzlement at 54, Lombardo is at the top of the musical heap. He has filled the Roosevelt Grill, he has enviable ratings on radio and TV and he has sold enough recordings to be able to sit back in an armchair and count coupons. Lombardo has achieved success in other fields. He holds dozens of trophies as a speedboat racer; he owns a flourishing restaurant in the East Point House,' Freeport, L.I.; he has considerable interests in oil, uranium and other properties, and he has had box office successes at the Jones Beach Marine Theater.
Undoubtedly Lombardo asks himself: "Should I retire this year, or should I keep going ?" He is still a young man, brimming with vitality, But the question may arise: Why the sudden exit from the Roosevelt Grill after only three months?
He Will Return.
I am reliably informed that of this moment, Guy and his orchestra will return to the Roosevelt at some future date, not a bit unusual, inasmuch as his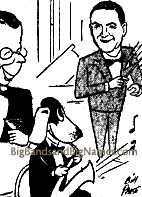 contract for returning is never signed until a much later date. Past history discloses that Lombardo has usually left the Roosevelt for the Lenten season to go on tour. A businessman, as well as a musician, he is alert to opportunities for added. income, which he receives on tour. One thing I believe, if another TV show materializes along the lines of the one he had, several seasons ago from the Roosevelt Grill, Guy and the hotel would welcome it.
In short, Lombardo has no intention of retiring from show business. Both Guy and the Roosevelt would welcome a TV show emanating from the Grill. In the meantime, while Guy is out on tour, let's dance to the music of Eddie Lane and his orchestra.
Originally, brother Carmen became the band's only vocalist (he wrote the music for, and sang Boo Hoo). His style was so distinct as to make Johnnie Ray's seem pedestrian. Some said it was nervousness and was described as if he were "eating honey with chopsticks." It was fodder for comedians for decades. "It was a very awful, very nervous voice," Carmen laughed. The group decided enough was enough and other singers took the bandstand like crooner-guitarist Don Rodney, Brother-in-law tenor, Kenny Gardener and sister Rosemarie.