Historically speaking, Martin and Lewis aren't usually remembered as the greatest comedy team of all time but in 1950, they were titanically successful. Hits on film, television and radio ensured a packed house for any club that could dish-out the money to have them. The Copacabana couldn't have been disappointed as Martin and Lewis broke their attendance record. It would be years until that record was broken again ... by Johnnie Ray.
Tips on Tables - By Robert W. Dana - May 25, 1950
That amiable pair of clowns, Dean Martin and Jerry Lewis, are enjoying at the Copacabana the same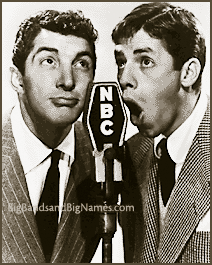 unqualified success they Martin and Lewishad at the club last season, and It looks as if it might continue a few more seasons until their kind of comedy-making goes out of style.
Skinny, boyish Lewis with the crew cut, can get plenty of laughs merely by mugging. When he makes situations out of lines, with nonchalant, Crosby -reminding Martin playing straight, he really rocks the audience with his cuteness.
Don't ask me to remember what they do, for much of their nonsense doesn't make much sense, but every now and then, with recognizable musical backgrounds, they string together some of the merriest topical notes and impressions. Martin's takeoff of Cary Grant is old hat by now, but when he plays Mary Martin to Jerry's Pinza, you'll laugh your ribs sore.
Wind Up in Style.
The boys really wind up with terrific style, showing their slick tap dancing ability as, with white straw hats and canes, they do a show-stopping routine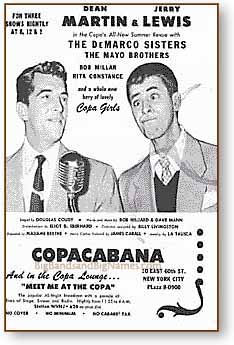 to "Swanee." Betty Bruce, a fine dancer who's been around the New York clubs for some time, gives a strong performance in a featured spot. Instead of just giving a standard dancing exhibition, which is her first talent, she sings well and shows a lot of humor in her asides to the customers. Blonde this trip and wearing a colorful turquoise outfit, Betty concludes her act on an amusing note of triumph.
Also featured is brunette Toni Arden, a good popular song stylist. Customers the other night were admiring her Alice blue gown with sequins and satin bodice, which was quite becoming. Among her songs are "My Heart Stood Still, "Supposin Where Can I Go? and "You're Breaking My Heart."
Emery in Production Numbers.
For production numbers Russ Emery does nicely. And who wouldn't with such a bevy of beauties in stunning costumes in front of you for inspiration? The last number is a honey, with Billy Livingston's costumes taking the prize. Also contributing to the general excellence of show is the young dance team of Harrison and Kay.
Michael Durso and his orchestra still play for the show and dancing at the Copa, with Fernando Alvaxes and his samba band alternating, Dick Stabile, the saxophonist, plays and conducts Durso's orchestra for Martin and Lewis.
Martin and Lewis performed their final show together, ending a 10 year partnership at the Copacabana on July 24, 1956.

World-Telegram Feature Magazine Section - By Robert Kamm - June 27, 1959
It is almost three years since the clown and the crooner ended their famous partnership. Both profess happiness as singles, but the bitter echoes still ring in Hollywood.
It isn't likely that Jerry Lewis and Dean Martin will ever forget the sultry night, they wept in each other's arms almost three years ago.
The tears which flowed that night-July 24, 1956-backstage at the Dean&MeCopacabana drowned a partnership of 10 years. They had done their last show together as a team, financially, the most successful team in show business. And when they confronted each other in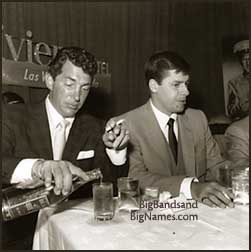 the quiet of their dressing room, the full realization that the honeymoon was over hit them pretty hard. But the weeping wasn't out of remorse alone. For all the bravado they had displayed publicly about the end of their association, the clown and the crooner were plainly scared.
Was it possible to end 10 years of professional marriage just like that? How much would they miss each other? Did each of them have the raw talent and the business acumen to go it alone?
Well, the answers are in now.
The tears have long since dried. The divorce has stuck. Martin and Lewis not only have not performed together since that night at the Copa; they have rarely seen or communicated with each other, oven at times of personal crisis.
There isn't the slightest evidence that they miss each other personally and, since both have continued to reap financial emoluments by doing separately what used to come so naturally together it might be concluded that they do have what it takes to go it alone.
Strangely, however the hills of Hollywood still echo with reverberations of the Martin-Lewis break.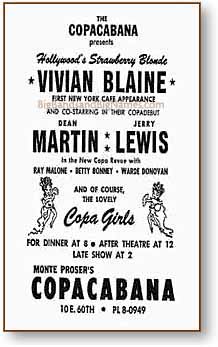 Three years have not succeeded, apparently, in distilling the bitterness into sweetness and light, even though both boys Dean Martin Jerry Lewisprofess to be happier as singles than they were as a double.
All of which has Hollywood asking: Is the Martin-Lewis feud still on?
Both Dean and Jerry stoutly deny that there Is a feud, and in Lewis' case, at least, the disavowal stands up under scrutiny because for more than two years he has judiciously avoided public comment about his ex-partner.
Efforts to draw Lewis out of his self-imposed silence about the "feud" get nowhere. It is known, however, by people close to him. that Martin's comments have stung him deeply and that they also have mystified him.
Martin, on the other hand, has let fly with pyrotechnics that have made periodic if not fairly regular headlines, and the wonder of it is that he hasn't provoked Lewis into doing the same.
The loudest Martin fusillade - it made eight-column headlines in Los Angeles papers-came last December when Lewis jumped into the breach (for free) on an Eddie Fisher TV show after Martin withdrew as a guest star in a disagreement over terms.
Said Martin: "He's just playing the grandstand martyr. Jerry's full of baloney-always has been. It's not good for show business when performers work for nothing. But then Jerry never did anything good for the business anyhow. He never has. He just wanted to make me look bad."
* * *
Earlier, Martin took public umbrage at an article crediting Lewis with raising large sums for the Muscular Dystrophy Fund.
"Those millions Lewis raised were raised by both of us over a 10-year period, if anybody's interested. We did it, not he. I just don't want him taking credit for something he didn't do alone." On this point, it is worth noting that the $5 million research center here of the 'Muscular Dystrophy Assns. of America, Inc., of which Lewis has been national chairman, is called "The House That Jerry Built." The organization itself came up with that appellation.
In recent months, Martin has been the author of such- other remarks as these...
"I haven't anything against Jerry. It's just that I think he doesn't belong in show business."
"I always thought I had a lot more to offer, but Jerry was the big talent out front. That's what I had to fight for years. Now, I'm very, very happy I'm getting a chance to show what I can do."
Martin's new-found success as a dramatic actor ("The Young Lions," "Rio Bravo," "Some Came Running") prompted these observations:
"It's an easier way to make a living and I don't get embarrassed anymore, Jerry couldn't stand it when he heard I was making a picture with (Marlon) Brando and (Montgomery) Clift. It killed him."
And in the same interview: "It will be a relief to sing a love song to a girl without the camera panning to Jerry's silly face in the middle of it. I think the people are fed up with TV comics. Now they want to relax and enjoy TV."
* * *
In still another interview, Martin deprecated the former partnership on two fronts. Of their motion pictures, he said: "I think we had it-had it good for 10 years. Let's face it. Those Martin and Lewis pictures were getting into a rut, real routine stuff. We weren't going to get much further with them."
Of their night club acts: 'The same - a rut. Jerry liked the work. Me, I'm for better hours. I don't go in much for the night life. I've been hitting the hay about 10 at night, getting up at 7. I like the daylight."
While Lewis has refused to be drawn into an open exchange, he was guilty of at least one indiscretion-in Martin's opinion, at any rate, when, in a national magazine article, he suggested that the partnership began to founder soon after Dean married his second wife.
Martin answered the story with a bitter denunciation of Lewis, accusing him of, among other things, "hitting below the belt."
Although the article was published more than two, years ago, it is believed to be a source of irritation to Martin even now.
One report is that Martin's resentment stems from the fact that he is in debt to York Pictures, Inc., the corporation owned by Martin and Lewis and later to Paramount Pictures.
"It is a rightful debt, but it is a bitter pill," a veteran of the Hollywood scene observed. "Martin has Iearned that he can get laughs talking about the split with Jerry. But when he comes out and says, as he did recently, 'There's no place in show business for Jerry Lewis, he's thinking about that money. The more he thinks about it, the sharper his cracks become."
The same source reports that Martin is believed to be earning 50 percent less now than he did when he was teamed with Lewis, whereas Lewis' earnings have soared to new highs in his triple capacities of performer,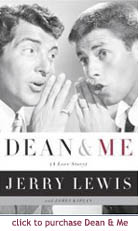 director and producer. (He recently signed a seven-year deal with Paramount Studios for $10 million in what was described as"the biggest single talent transaction in Hollywood history for the exclusive service of one star.")
The fact remains that Martin is extremely successful even though he doesn't enjoy the tax benefit break he shared with Lewis when they were a corporation.
"In 1958," it is reported, "Dean made two movies at $115,000 each; two TV specials (net to him of about $40,000 each); seven recordings (up to 1.8 million sales), and night club appearances at. about $25,000 a week. He has a small percentage of the action at the Sands Hotel (in Las Vegas), which he takes instead of salary for the tax benefit.
"So he is doing all right, and is on the verge of getting movies in which he will share in the profits for a better income tax break."
Of considerable importance to Martin, too, Is that he is "standing on his own two feet, and has escaped the 'Lewis straight man' identification which was eating him."
* * *
Martin insists that the "best thing that ever happened to my career was meeting Jerry Lewis - the next best thing was our breakup."
This is a sentiment which Lewis shares with great enthusiasm. Not only have solo roles permitted him to do the things he wants to do, and in the manner he chooses, but they have won him opulence of which he never dreamed. It isn't often that anyone plunks down $350,000 in cash to buy a house-but Lewis did just that when he bought the former mansion of the late Louis B. Mayer in Bel Air.
But there is more to the three-year-old break than meets the eye and the ear, and the chances are that there will be occasional outbursts, one-sided or otherwise, for some time to come. The only thing that can be said with certainty is that there is no chance of bringing Martin and Lewis together again.
As Lewis has said: "I'd have to be out of my head." That's one sentiment even Martin shares.