Tips on Tables - By Robert W. Dana - March21, 1958
Not sleet nor snow nor a flooded Belt Parkway that sent Manhattan tourists scurrying to Brooklyn gas stations for directions could dampen the enthusiasm of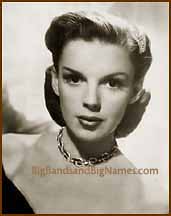 the multitude that showed up last night at Ben Maksik's Town and Country for Judy Garland's long-awaited opening. After it was over, the Cadillacs were nodding to the Volkswagens as their masters glowed in a kindred aftermath of exhilaration.
Miss Garland, whose career in recent years has fluctuated like the stock market, was completely magnificent in her Brooklyn debut. To the people who paid her the tribute of packing the huge Flatbush Ave. night club on the winter's last and meanest night, she said, "Hold fast for a big blast."
Actually, the Town and Country presented two show last night. The first offered the opening number of the Buster Burnell dancers, a stylish group of girls and fellows in exuberant choreography. They were followed by Bobby Van, a chap whose singing and dancing bid fair to put him in the Ray Bolger class ere long' and Dave Barry, a comedian who admits he was born, bred and buttered in Brooklyn. His impressions of Godfrey and Liberace are uncanny.
Stage Cleared.
The stage was cleared. The moments ticked by as the orchestra prepared for the appearance of the star. Then, as with a hit musical, they played an overture of Judy Garland songs. Suddenly, there she was, a vision in shimmering black, ready for the "big blast."
One lives with emotion in a Garland performance. The notes pulsate through her throat as if from a meadow lark as she gets her bearings with "Life Is Just a Bowl of Cherries," "You Made Me Love You," "For Me and My Gal" and a triumphant "Trolley Song."
"I'll never be the same until the sun comes out," she sings, and one feels a heart crying out for understanding.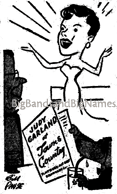 Emotion piles up as Judy sings an early Irving Berlin song, "Hows About Me." She dances, and the violins of Ned Harvey's orchestra are expressively beautiful in the accompaniment.
Ready to Bawl.
Just when everybody is about ready to bawl between enthusiastic shouts of approval, when sighs are a dime a dozen, Judy turns gay and remains that way for "I Will Come Back," and old vaudeville tune, and "When You Were a Tulip" and " I Guess I'll Have To Chance My Plans," with Bobby Van returning for a charming singing and dancing duet.
The program hits it's peak with " I'll Go My Way By Myself," as she tried to teach her heart how to sing; with "Rock-a- Bye My Baby" and with the inevitable "Over the Rainbow." A portrait of a performer, a biography of emotions was told bewitchingly in song by Judy Garland last night at Ben Maksik's Town and Country.