Tips on Tables - Robert W. Dana - Estimated Date 1949
Cab Calloway, with only a four-piece band behind him instead of the fully-stacked outfit of old, is sizzling away with all his old magic at the head of the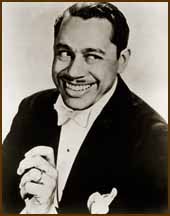 fast-moving, neatly -staged show with pretty girls that serves to reopen the Greenwich Village Inn, a New York landmark.
It sure is good to see Cab back and in such an informal atmosphere. Not that he has ever worked in a stiff one, but with just the smaller unit working with him, some of his talent that might otherwise be overlooked is finely etched.
He doesn't wear the zoot suit and dangling chain for this engagement, but he shows he depends much on the costume front by wearing a white dress suit, with white tie and shoes.
Warms to His Task.
Opening with a number called "The Hi-De-Ho Man, That's Me," he warms to his task and turns on his great style, with "Don't Cry, Joe," then pays tribute to another Joe with "Old Joe Louis, He's Still the King of Them All," in which he does some realistic business with the microphone as a sparring mate, finishing with a sweet upper cut.
In addition to his own portion in the show, which includes sock impersonations of "St. James Infirmary Blues" and "Minnie the Moocher," Cab introduces his piano, bass, trumpet and drums players with a rocking version of "I've Got Rhythm" and presents a cutie pie named Dottie Salters, who sings "Zip-A-Di-Do-Da," "I Don't Want To Be a Good Girl Anymore" and "There'll Be Some Changes Made."
Before you come to the Cab Calloway end of the show at the Greenwich Village Inn, you are nicely entertained by the Wally Wanger girls _ prettiest I've seen in this club over the years _ in costumes originally designed by Billy Livingston and executed by Mme. Bertha for the Copacabana girls.
Well Staged Production.
You can see Wally's fine hand in the staging, in which the girls' dance numbers are neatly integrated with the expert tap dancers and singing of Charles Julian and the singing pert of Libby Dean. Speaking of integration, the performers in the first part of the show blend well with the Calloway portion in a neat finale, featuring a new dance called the Duck Trot.
There is continuos dancing to the Sonny Roberts, orchestra and the Creators. Shows are presented at 9 p.m., midnight and 2:30 a.m. Dinners are priced at $2.50.