in 1956, Martin and Lewis performed their last show together at the Copacabana. Both were still under contract to Paramount and at the time of this review, Jerry Lewis had two solo films under his belt. He also scored a surprise top forty hit by covering Al Jolson's "Rock a Bye, My Baby" on Decca records.
Tips on Tables - Robert W. Dana - September 10, 1957
Sitting on a stool, with half a spotlight as requested, Jerry Lewis last night sang "I'll Go My Way By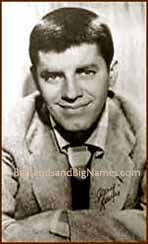 Myself" in a touching straightforward conclusion to his opening performance at Ben Maksik's beautiful Town and Country in Brooklyn.
It was the perfect answer to Hal March's quip, when asked to follow the lead of others who had sung "Shine on Harvest Moon" into a hand microphone handed to him at ringside. "I figure you work single, work single," said Mr. March.
Indeed, that's what this star of Paramount's "Delicate Delinquent" and "Sad Sack" had been doing for about an hour. Given the keynote at the outset by Ned Harvey's crack band, the man with the shorty haircut never let up. He's Mr. Rhythm with a voice. He's Mr. Hoofer, with a loose-jointed grace of a true showman. And he's Mr. Clown, who makes each line count for a laugh.
I must confess I haven't always been an ardent Lewis fan. I am now after this performance. Whether he's kidding the singing fads, from Spanish dancers to exponents of rock and roll, or going sentimentally rhythmic with "Shine on Your Shoes" and "Rock a Bye, My Baby," he's a single of stature.
My sides hurt as I laughed while watching Jerry's portrayal of "Tokyo's foremost singing star." With the assistance of Hal Bell as interpreter, he makes the routine the instrument of lines that break up the audience again and again.
As a pleasant entree to his dancing skill, in which he can't resist his humorous side, he introduces Dick Humphreys, an accomplished tap dancer. Jerry finally "catches on" and the pair provide a pleasant interlude.
And finally, Jerry recalls the Skylarks, who had sung so well earlier in the show, in some entertaining spoofing of "Danny Boy." I particularly enjoyed the Skylarks'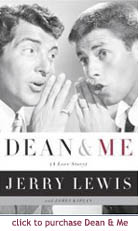 rendition of a medley of songs from "My Fair Lady."
Although seen only briefly, the Buster Burnell dancers open the show with a brisk dance, part of which takes place dramatically on a runway above and behind the orchestra. It is a bit that Mr. Maksik may use more frequently.
Although Hal March wouldn't sing "Shine on Harvest Moon," Sophie Tucker did in her grand manner. And Jerry Lewis concluded the solidly rewarding show with his wife's favorite,"Come Rain Or Come Shine.