My wife says that Perry Como and Sammy Davis Jr. had an unusual timbre to their voic e... as if they drank a large glass of milk too quickly before singing. If that's true, then Vaughn Monroe must have drank gallons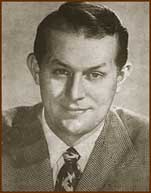 of the stuff before he sang. He likely had just about the most unusual voice of the whole big band era (and beyond) but that didn't stop him from becoming one of the most successful singers of his day.
Vaughn Monroe was born in Akron, Ohio on October 7, 1911. In May, 1953, the music world was startled to hear that this established bandleader was dissolving his famous musical organization in order to become a single performer. At the time of this review, Vaughn lived in the suburbs of Boston with his wife and two daughters, Candace and Christina. His hobbies included building model trains, photography, pipe collecting, flying and motorcycling. He was also a licensed pilot who owned his own plane.
Tips on Tables - Robert W. Dana - June 14, 1955
The management of the Sheraton-Astor Roof decided to change Its entertainment policy this year, substituting a name personality for the name bands that have held sway, there for years. The choice for the first four weeks, of the season was handsome, virile baritone, Vaughn Monroe.
For years Vaughn had gained a solid reputation as one of the foremost band leaders in the country, one who always put on a good show. Since giving up the band to go out as a single two years ago, he has continued the same pace as an outstanding showman and performer.
On the roof he is booming forth with a variety of songs to everyone's delight. He opens by walking in with a hand mike, singing Rodgers and Hammerstein's familiar "Getting to Know You," shakes hands with customers and offers a personal greeting. Several other times during the show he makes effective use of the hand mike to stroll around the floor, literally singing to everyone in the room.
Perhaps the biggest surprise is the fact that Vaughn's repertoire doesn't include one popular tune of the day. To me the highlight of the program is a medley including "There, I've Said It Again," "You Were Meant for Me," "The Very Thought of You" "Moon Over Miami," "You're My Everything" and "Racing With the Moon."
Judging from audience response, rhythm and blues and rock and roll run a poor second in public choice at the Sheraton-Astor Roof. Larry Green provides slick piano accompaniment while Neal Hefti and his band offer excellent backing for the show and smooth dance tempos afterward.