Tips on Tables – Robert W. Dana – June 13, 1949
In all the years it has gained a nationwide reputation for its excellent shows, fine music and gilt-edged atmosphere, the Copacabana, 10 E. 60th St., has been doing an outstanding job of preparing food in immaculate Copa cardkitchens behind the scenes. So often I had heard the remark: "We never knew a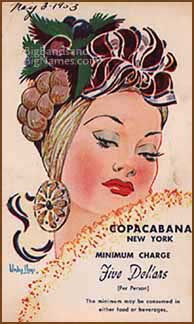 night club could serve such food" that I decided to meet the chefs.
That entails too much meeting during the busy dinner hour, what with 20 chefs and cooks in all – 15 preparing a French cuisine and five a list of Chinese dishes. So it was restricted to a fast handshake with Marcel Jougier, head French chef, who has been there six years, and a nod to Lum On, head Chinese chef.
The rest of the time was devoted to watching Jules Podell, the club's supervising director and a restaurant man for 30 years, watching each waiter like a hawk to make sure that each order is as near perfection as possible. Down the line they came, baring their trays of edibles. Quickly the stocky man in the brown suit lifted each cover,made sure the size of the portion and the general appearance of the plate was right, otherwise back the waiter went to the back of the line to try all over again.
Mania for Cleanliness.
You'd think that running the one gauntlet would suffice, but, no, the waiter has to satisfy the head checker before leaving the kitchen for the final trip to the customer. Mr. Podell has a mania on the subject of cleanliness. Let him see a piece of lettuce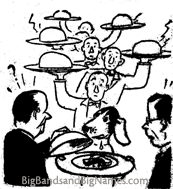 staining the floor and he'll stop everything to have it cleaned up. Let a waiter show a spot on his white jacket with the crimson collar and a quick change is ordered.
Out front, Jack Entratter, the quietly efficient manager, watches the customer satisfaction, exemplified, perhaps in a group of women having a dinner party on the balcony.
They not only are going to see one of the town's best night club shows, but they're going to eat a tasty, filling table d'hôte dinner, with entrees ranging in price from $2.50 for filet of lemon sole Breteuil to $4.25 for roast stuffed Vermont tom turkey. Some of the other fishes are scallopine of veal (always excellent), emince of capon with spaghetti Tetrazzinni, baby lamb steak béarnaise and such Chinese dishes as white meat chicken chow mein and pepper steak with bamboo shoots, water chestnuts, mushrooms and fresh tomatoes.
Menu Memos: Copacabana, 10 E. 60th St. Excellent French and Chinese cuisines. Joe Lopez, head waiter, Table d'hote dinners served from 7 to 10 p.m., $2.50 to $6.50 for filet mignon. Also an extensive a la carte list. Current floor show stars Dean Martin and Jerry Lewis, the fine comedy team, in their seventh week. Mary Raye and Naldi, the dancers, have just joined the show as featured performers, with the Copa girls youthful singers and dancers comprising the rest of the entertainment.

Click Here to read more about the Copacabana