Before Florence Henderson's comparatively jagged-edged portrayal of Carol Brady on the Brady Bunch, she was the junior half of a singing duo called "The Singing Sweethearts." We tend to think of Ms. Henderson as being of another generation than most of the artist's featured on this site but she was an established performer before The Brady's debut.
Bill Hayes, born in 1925, has had a extensive career in theater, films and television. Motion pictures include "Stop, You're Killing Me" and "The Cardinal." He had a hit record with "The Ballad of Davey Crockett" (that song was actually written with 20 verses. Honest!). Years later, Bill played Doug Williams in the soap opera, "Days of Our Lives."
Tips on Tables - Robert W. Dana - April 14, 1958
In one of the best arranged programs seen this season in cafes, Bill Hayes and Florence Henderson, the "Singing Sweethearts," last night made the Maisonette of the St. Regis a wonderful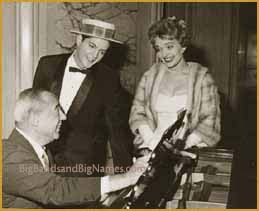 place to be in. Youth was exhilarating magic, bewitching with music and lyrics playing a fond game of memories.
Mr. Hayes can boast a seniority of experience for his three and a half years on the Max Lieberman TV Show of Shows, his performance as the juvenile lead in "Me and Juliet" and his recording of "The Ballad of Davy Crockett."
Love at First Sight.
But Miss Henderson, who scored in the title role of "Fanny" when she was still short of voting age and has toured in Rodgers and Hammerstein's "Oklahoma!" and done some intermittent TV work since then, is blossoming now like an American beauty rose that expects to bloom forever.
Mr. Hayes opens alone with "My Song" and "Lady Be Good." Then, with respect and reticence, he sings "How Do You Speak to an Angel," the Julie Styne-Bob Hilliard pulse-quickener. Rodgers and Hart lend the words for an introduction with their "Wait 'til You See Her."
And when you do see Florence Henderson in a Neiman-Marcus gown of white silk, with bell-shaped skirt embroidered in pearls and sequins, you love her at first sight. Even more so when she starts to sing "Cockeyed Optimist" and "I'll take that romance," a number the late Grace Moore did for the movies.
The sweethearts next sing an opera medley: "Indian Love Call," "Merry Widow," "La Donna e Mobile," "Quando Me'n Vo" and with delicious stage presence, Miss Henderson suddenly puts her palm to her mouth in the realization that her voice might shake the rafters. It is a glorious, bell-toned lyric soprano.
Rodgers 'Life.'
The two sing a sweethearts medley, including a theme that fails to do them justice, but the major portion of their program is reserved for a take-off called "Richard Rodgers, This Is Your Life."
It may not be the most complete life of the composer one might want to see and hear, but it is superbly done. It traces his early years of collaboration with the lyricist, the late Lorenz Hart. Then using "My Funny Valentine" as a bridge, it skips a few years to continue with the immense collaboration with Oscar Hammerstein 2nd, including winning portrayals of the principals who sang in "Oklahoma!," "Carousel," "South Pacific" and "The King and I."
The brilliance of Florence Henderson should be a shining light for years to come, while Bill Hayes has much continued success on his own horizon. What more can I say that I'd like to go right back to the St. Regis and hear some more of those Rodgers and Hart, Rodgers and Hammestein songs as they are sung by the "Singing Sweethearts."