Tips on Tables - Robert W. Dana - January 10, 1958
Nat (King) Cole had many merry old souls applauding his return last night to Jules Podell's Copacabana. Without introducing a man who needs no introduction, let me say that here, again, is the classic Nat Cole example of a performer who has been through the proverbial mill. The distillation as we see it, and hear it, is as exciting and rewarding as a concert appearance.
In a gray silk suit, his willowy figure attuned to his rhythmic repertoire, Nat ran through a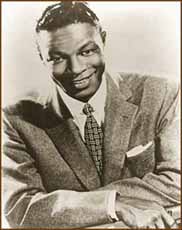 program last night that had everybody relaxed and eager for more - and this after the comedy team of Marty Allen and Mitch De Wood had registered a distinct triumph of their own.
As Nat sang, I wrote, and here are the song titles, plus some annotations: Opens with "I'm Shooting High" (he touches a few keys on the piano from a standing position) "There Goes My Heart" (he commands great respect on this one), "I Am In Love"(he pounds the piano with an assist from Michael Durso's orchestra), "Stardust," "Night Lights,""Making Whoopee" and "Ballerina."
A Pied Piper.
Nat Cole was a Pied Piper for me last night,leading me into wondrous other worlds with Victor Young's "When I Fall In Love," "The Party's Over" (from Bells Are Ringing), "I Want to Be Happy" (with a great jazz touch at the piano),"Lullabies of Broadway" and "Just One of Those Things."
The Douglas Cloudy revue has a new line of girls in costumes by Sal Anthony with Michael Durso, Mel Mitchell and Marvin Kahn turning out such catchy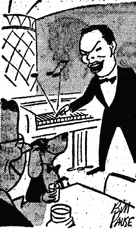 tunes as "Ukelele Rock a Bill," "Heartbreak Avenue" and "Pick a Partner," With Ted Morrell, Mimi and the dance team of Danii and Genii Prior to back them up, these are up to the Copa's high standard.
It is interesting that with Nat Cole, Jules Podell booked Allen and De Wood as a supporting act. It's one of the funniest comedy acts in the country,sort of in the old Martin and Lewis manner. But these boys don't have to make their way as carbon copies.
Singers Open.
Show openers are the Axidentals, a rhythmic singing group,three boys and a girl,who work hard in the customary manner of the day. Harmony is good,arrangements well noted. But I keep thinking that the choice of name isn't too friendly to their cause.
Summing up: this is one of the best shows the Copa had in months. Even Jules Podell seemed to feel this was so, for he was posed with tapping feet on the stairway as Nat Cole wound up his performance.
Does anybody recognize the fellow in the photo below (perhaps a musician) on the left standing next to Nat Cole? This picture was taken outside the Tropicana in Havana, Cuba. Please email me if you do. Thanks.