Tips on Tables - Robert W. Dana - March 1, 1961
In their first Broadway engagement as stars at the Latin Quarter, comedians Rowan and Martin last night opened near the tail end of the seductive, daringly accoutered Ron Lewis spectacle, "Viva La Femme." If they had brought along with their pipes and slouched in easy chairs they couldn't have been more relaxed. I'm not much on this instant stuff, but they're instant success.
These handsome, clean cut chap's are in for three weeks, I'm told, so you better catch them fast. California lads, 37 and 36 if you want to know their ages, former comedy writers, they practically shout the clarion call that all those wits who bask in the wings while another guy spouts their lines should charge a out and be do-it-yourself comics.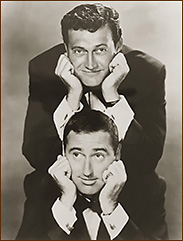 This, isn't as easy as it sounds, but it serves as an example and, surely, the brilliance of these two is found not only in the carefully-composed lines that carry a message even as they introduce themselves but in their theatrical presence, which many a drama critic would admire.
After dillying and dallying with the television commercials, they conclude with the longest and meatiest portion of their routine, a conception of Sir Laurence Olivier Heckled By a Drunk in Las Vegas.
This ingratiatingly hilarious portrait uses only the props of the table and some beer for the heckler and the microphone for "Sir Lawrence." In fact, these boys are mighty stationary, don't do any handstands, hop, skip or jump. But they're immensely funny.
As for "Viva La Femme" it's as if all the most beautiful women in the world were distilled and presented in their various shapes in the imaginative costumes designed by Freddy Wittop and let loose in well staged order against a background of music and orchestrations by Tom Joerder and Bill Jacob.
Among the other newcomerowrs to the review last night where The Therons, a troupe of cyclists from Paris, whose act not only presents a highly professional, therefore easy, Touch of balance but a modicum of whipped to lend an added zest.
Also new were Chop Chop and Charlene, a magic act, in which the man swallows and inordinate amount of live flame and a group of doves try to steal the act. It's another of the top acts of the world garnered by E. M. Lowe and Ed Risman for the Latin Quarter, one of the world's most famous night clubs, and justly so.
"Viva La Femme" and Rowan and Martin for three weeks, then stay tuned for continued excellence at the Broadway show place.