Tips on Tables - Robert W, Dana - estimated date 1952
Sugar Ray Robinson, world's middleweight champ, traded his boxing gloves for some tap shoes and a wardrobe of natty clothes and made his night club debut Friday at the French Casino.
Here, instead of feinting, punching and counter-punching, all he had to do was turn on his natural charm, dance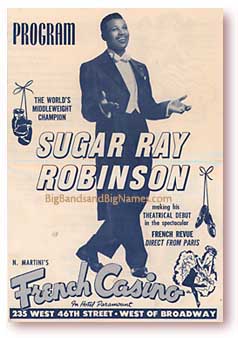 with vigor and unusual gift for one so new in the game and toss off a few topical gags to win an easy decision.
It is my guess that Sugar Ray will sweep across this country and through the continent not only as a dancing master-of-ceremonies but even as a single. He may even set the stage for similar experiments in show business, for great figures of sports seem to have an affinity for Broadway and the footlights.
The French Casino show presented by M.N. Martini and staged and directed by Helene Martini has a great sweep and a good pace. It has the ability to combine the saucy, frothy qualities of Paris with sequences typically American. Altogether a generous, highly entertaining show.
Sugar Ray's first entrance is delayed for reasons of suspense, but once he appears in colorful sport jacket and jokes and dances with his very clever partner, Scotty, he's on and off for the rest of the show. You see him in white tie and tails and all in white with a blue tie. He dances, sing and kids with customers like Milton Berle. A personal triumph it was for the boxing man, but there also was tremendous applause for the other specialty performer. The greatest of all is Dominique, handsome as all get out and not yet 20. He's a magician and pick-pocket extraordinary. Another of his talent, ventriloquism, he seldom finds need of using. I guarantee he'll amaze you and make you laugh until your side hurts.
Rudy Cardenas is a world-famous juggler. He literally uses his whole body for his act, his reflexes trigger sharp. He, too, is quite young.
An exquisite ballerina is Jane Laste, who has scored a personal triumph since the club opened on July 4. Another of the original company's Ginette Wander, who sings French songs. Outstanding production number of the show is still the wonderful can can, with Vincent Travers and his orchestra lending a fine musical background.
Maitre d'hotel of the club is Jacqes, our old friend from Bill Miller's Riviera.