In 1959, Eddie Fisher's TV show was canceled and his record sales had dropped. This engagement at the Waldorf was his first major appearance in New York in several years and was touted as a comeback. The reviews were good and the house was packed but folks scrambled onto the dance floor, not just to enjoy the music, but to catch a glimpse of Eddie's new superstar wife, Elizabeth Taylor.
Tips on Tables - Robert W. Dana - 11/17/59
Eddie Fisher, a singer from Philadelphia, renewed acquaintance with New Yorkers last night as he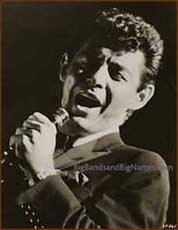 opened a four week engagement in the Empire Room of the Waldorf-Astoria. His performance, professionally spirited and voca2lly commanding was preceded by a parade of high-fashiond gowns that was a show in itself.
Seldom have I seen the dance floor of a public dining room reduced to the snail-like dimensions that prevailed last night in the Empire Room, as customers seemed to delight in dancing cheek-to-cheek as they bumped their shins on extra ringside tables. They did it joyfully, with the expectations of seeing Elizabeth Taylor, (Mrs. Fisher) soon at one of these tables. And if they didn't take home an autograph at least they took home a bruise and the fond memory of a singer who sang to his wife, among others.
Debut in the Big Town
Most of Eddie Fisher's singing career has been recorded on TV and records, Locally, he was a big hit some years back in an appearance at Bill Miller's Riviera on the New Jersey Palisades. This, then at long last, is his cafe debut in the big town, and at the age of 31.
Ever youthful, with that smile that charms, Eddie spun a program of songs that night can be recorded as eminently satisfactory. In the beginning, as he rendered "Tonight," and "Another Autumn" and the first medley, the impression was one of casual aloofness and tuneful impact. It is a part of the singer's personality. Partially explained by his admission at the end that he was nervous. To me he's an introvert who has much to express and will do so more completely on evenings other than opening nights.
A Neat Program
His program is neatly arranged in a series of medleys, with the dividing numbers being particularly effective, One is "Philadelphia," a rousing humorous number about the old home town. Lyrics to "I'm Glad I'm Not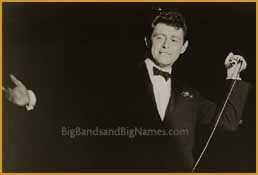 Young Anymore" and clever, and the number about "Dem Old Bums of Mine" cheering to an old Dodger fan like myself.
Personally and heart-wise, Eddie is the most in the groove when he does the Jolson medley of "Swannee," "Quarter to Nine," "Lisa" and "Red red Robin." Show-wise, he's probably at his best in the final group, "Anytime," "Wish You Were Here," "Heart" and "Lady Spain."
Jerry Fielding is musical conductor of Emil Coleman's orchestra for the Fisher performance, with Eddy Samuels featured at the piano. Eddie Fisher will impress you with his charm and musical talent, even if he doesn't floor you with a heartfelt feeling therein.