Tips on Tables - Robert W. Dana - February 13, 1956
Jules Podell has such a wow of a show at his Copacabana, one hardly knows where to start. But I'm afraid I must start with Buddy Hackett, a comedian with a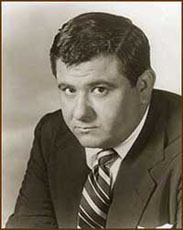 face that scares you at first glance. He starred a year in the Broadway smash, "Lunatics and Lovers." He's been funny on television. Now he's at the Copa, and I wish I could see him every night.
What therapy that would be. He breaks up the joint, waiters, captains and customers. One captain advised me to look forward to his impression of a Chinese waiter, which turned out to be a classic. Every line he says seems to have been inborn, built to order for a man who is humor personified.
'King of Comedy.'
He describes the contour of Miami Beach, and how the ocean was curved to fit it. He says he isn't nervous, "just watching my lips." He tells of his experience visiting a California drive-in, kind of embarrassing without a car. Maybe these lines wouldn't sound as funny if delivered my another comedian, but from now on, until somebody else comes along, Buddy Hackett has to be the king of comedy.
Singer Vic Damone is star of the show and has the unenviable task of following the comedian.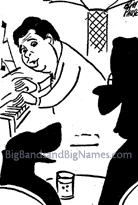 After singing "What Is This. Thing Called Love?" and "Autumn Leaves" with sad sorrow in his eyes he accomplishes this with rousing, success.
There probably isn't a handsomer singer in the country today, so Vic is legitimate swoon bait for the ladies. There's only one trouble. He pointedly lets everyone know in song, just how much he loves his beautiful wife, Pier Angeli. His aunt and uncle, at ringside during the show I saw, seemed to approve the way he sang "I Hadn't Anyone Until You' Came Along."
Medley from 'Kismet.'
And everybody else seemed to approve of his singing of a medley from "Kismet" (a movie "I was fortunate to be in"), "Dancing Cheek To 'Cheek" and, "Oh, Look At Me Now."
Opening, the Copa's show in a featured spot is another splendid act, The Cheers. Here you have harmony and comedy, dancing and sex. The girl is a shapely beauty who isn't afraid to show her legs. The boys are young and handsome; one plays the trombone, another the bongo drum. "What Do You Want?" "Up a Lazy River," "Heat Wave" and "Crazy Words, Crazy Tune" help establish The Cheers as a dynamic act.
And I mustn't forget the youngsters of the production line, who opened with the last show. Mickey Calin and Grace Genteel, the dancers; Chic Layne and Barbara ammond, the singers, and all the beautiful girls. For music, Michael Durso and his band, with Frank Marti and his samba band to alternate.