Born in Chicago, Dolores Gray lived her earlier years in California. At the age of fifteen, she was discovered by Rudy Vallee who introduced her as a singer on his nationwide radio show. However, it was in England that Ms.Gray attained outstanding personal attention as the star in the musical comedy "Annie Get Your Gun." The London engagement opened on her 21st birthday. Along with her nightclub and recording career, Dolores had appeared on television shows like Ed Sullivan, Steve Allen, Perry Como and the Bell Telephone Hour. In 1955, she would begin her film career co-starring in "Kismet".
Tips on Tables - Robert W. Dana - January 22, 1954
Dolores Gray was very young but very mature when she made her New York night-club debut nine and a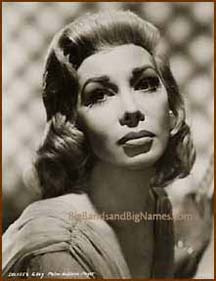 half years ago at the Copacabana. Now still young and ever so much more experienced through theater triumphs and cafe appearances elsewhere, she's magnificent in the Empire Room of the Waldorf Astoria.
Miss Gray is a forceful individualist, an actress with a voice that can be and do many things, from sweet to hot, from nostalgic femininity to deep and lowdown.
She's stunningly dressed by Michael Spaeth, a young American designer, who provided her with such creations as her opening night gown of black peau de sole and tulle, with 170 yards of material in the skirt, and a white jeweled sheath of oyster and champagne tulle, train in back, sort in front.
Own Accompanists.
In addition to Nat Brandywine's band, Miss Gray has a personal accompanist, the well-known Hal Hastings, also Teddy Charles on vibraphone and bongos, Sandy Block on bass and Tommy Lucas on guitar.
Such was the careful planning for the return to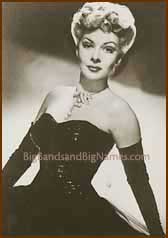 New York of a girl who appeared on Broadway in "The Seven Lively Arts" and "Are You With It" and starred for three years in the London production of "Annie Get Your Gun."
She's an individualist, but as she sings you immediately picture two other individualists who would look good with her in a trio: Ethel Merman and Gertrude Nielson.
12 Songs a Show.
Dolores sings about 12 songs a show. A typical opener is "Shall I Be Sweet or Hot?" She answers it in her program by being both. She closes appropriately with a little story about coming home from London on a little boat and singing the poignant, endearing song from "Annie" called "I Got Lost in His Arms."