Tips on Tables - Robert W. Dana - October 14, 1955
"Let's get going, then if you want to flip, it's all right with me," says Mr. Rhythm, Frankie Laine, to those attending his limited engagement as star of "Mademoiselle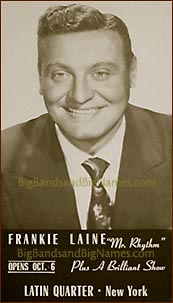 de Paree" at the Latin Quarter. Earlier, some startled neophytes, unfamiliar with the antics of Frank Libuse, the mad waiter, flip their lids with genuine anger at the preshow liberties he takes.
Frankie Laine has earned his sobriquet. He leans slightly forward as he sings, as if he were about to battle a stiff wind in Kansas. His hands are always busy, often raised, with the fervor of a revivalist. I'll say he's. Mr. Rhythm.
And a consummate showman, too, as he introduces the numbers that have meant much to his career. Because it always was a lucky number for him since he first sang it in 1949, he does "Lucky Old Sun."
Next comes "Your Cheating Heart," by the late Hank Williams, on whose life a movie will be based; then, nearest and dearest to Frankie's heart, "You're My Desire," then "Jezebel."
By now, as Frankie points out, the audience is really flying, so he introduces his accompanist, Al Lerner,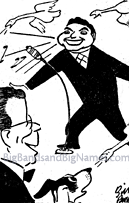 the Cleveland flash, before rushing into his version of "Cry of the Wild Goose." "Believe" and "Jealousy" wind up a program that should satisfy the singer's fans and win new ones.
Many think Frank Libuse is funnier before the show than he is in it. For a half hour or so he practices being rude to everybody, tucking a napkin under a lady's chin, endangering the security of many a toupe with swipes of a potted palm and mopping up the dance floor when it's full of customers. Folks gradually get on to the act and all is calm again.
During the show Frank does his horse play with the help of Margot Brander, who sings when she gets a chance and suffers innumerable Indignities, and the same harried chap who plays an anguished waiter captain.
Elsewhere in the Latin Quarter revue you see the slam-bang Apache act of the Mazzone and Abbott Dancers, who always find a warm welcome with audiences at Lou Walters' club; Chiquita and Johnson, in a dance act that features a petite brunette in a series of splits, Tamar Benamy, who makes love to herself as half man, half woman; Piroska, Howard Mann and Lynn Christie.