Tips onTables- by Robert W. Dana- January 30, 1954
With a company of 35 gifted musicians and entertainers, Horace Heidt returned to New York last night after a 14-year hiatus and celebrated his 30th year in show business by presenting an hour-long program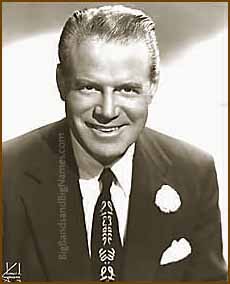 called "The American Way" in the spacious Cafe Rouge of the Statler.
Precision paced, skillfully staged and stacked with the greatest abundance of talent seen in these parts at one time in years, the production is eloquent testimony to, the fact that the handsome, suave maestro and discoverer of talent in the country's hamlets has lost none of his magic of the halcyon Biltmore days.
American Beauties.
For those used to bending an ear to name bands in the Cafe Rouge, this is quite a departure, particularly when confronted with a line of girls. There are eight of them, mostly blond, fresh, curvaceous and costumed for the precise purpose of illustrating "The American Way."
This they do, once in red-white-and-blue shorts, with one expecting John Phillip Sousa to be announced any minute; then again in miniature top hats, with black, rhinestone-studded costumes, carrying canes and tapping like mad; dancing country style in a flavorful, audience-participating square dance number, and joining a choral background for "The Lost Chord."
Mr. Heidt said it took him five years to corral this bunch of talent. First he shows how to build a band, starting with rhythm , then the foundation of the saxes, then the tone coloring of the trumpets and trombones and finally the real good beat of the drums.
Boy Drummer.
The drums? Behind them is a 12-year-old lad named Allen Brenneman, who brings down the house with his virtuosity and returns at the end of the show to lead the company. in a blazing finale.
From Danville, Ill., Horace presents Willis Knight, who sings "Some of These Days" with a robust, buzz saw grind. Russ Budd, from Grand Rapids, Mich., is a facile tap artist, with slick impersonations of 'Pat Rooney, Gene Kelly and Ray Bolger.
Ralph Sigwald, from Charleston, S. C., is the Nelson Eddy of the company, singing "The Song Is You," "The Lost Chord" and a Viennese medley for the girls and boys to waltz to.
Soft-Shoe Routine.
Lyzabeth Lynch, 18-year-old blonde from Akron, Ohio, sings and dances as the maestro joins her in an eloquent soft shoe to "Side by Side." Johnny Standley provides the evening's comedy highlight with a preacher's interpretation of "Little Bo Peep" and then comes Richard (Dick) Kerr. And what a man Kerr is, easily the star of a great, inspiring show. With high-voice introductions to impressions, blaming doctors' experiments for the results, he gives immense vocal and pictorial portraits of Billy Eckstine, Rose Murphy, Louis Armstrong, Frankie Laine and Johnny Ray. If Horace did nothing more he brought us Richard Kerr. But he brought us "The American Way" and this I think all of you should see.