Before forming his own orchestra, Eddy Howard performed with the Ben Bernie, George Olsen and Dick Jurgens orchestras. He was at onetime a sideman with Tom Gerun's band in San Francisco when three other performers, Ginny Simms, Woody Herman and Tony Martin shared the bandstand with him. A composer as well as a bandleader, Eddy first clicked with his 1939 recording of "My Last Goodbye." Sales of that song were spurred by a story circulating that Howard wrote the song for his wife who had died the year before. Actually, she didn't, but the momentum had already begun.

Tips on Tables - Robert W. Dana - September 30, 1955
"I'll Get By" is an old standard that will never be forgotten as long as romance remains in this world.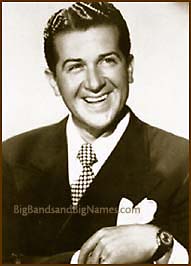 Nor will it ever be sung with more sweet expression than by Eddy Howard, who has opened with his band in the Roosevelt Grill, there to remain until Guy Lombardo and the Royal Canadians open their annual engagement on Nov. 4.
Bandsingers may come and go, but three of the greatest to my ears have always been Eddy Howard, Eddie Stone and Woody Herman, band leaders all. You can hark back to the early days of radio and remember the thrill of recognizing one of these distinctive voices, voices, with personality.
Wanted to Play Here.
Eddy Howard, good friend of Guy Lombardo and a graduate of the Ben Bernie, George Olsen and Dick Jurgens orchestras, had always wanted to lead his own band in the Roosevelt Grill. Charles White, the Roosevelt's manager, had always wanted him to play the room.
So there you are, and here's the band; four brass, five reeds, three rhythm, with a special band within a band featuring Dixieland tunes and novelties and vocals by Eddy and his trio.
After playing Chicago's Aragon Ballroom about six months a year, as well as the Palladium in Hollywood, it has taken Eddy a few days to get used to the smaller confines of the Roosevelt Grill. He and the sound mechanics of the room seemed to be in good accord the other night as he opened his first dance set with "Tenderly," "Sleepy Time Gal," "Cuddle up a Little Closer" and "Lady Be Good" among others.
Hit Composer, Too.
Band leader Howard is also composer Howard. To his credit are such Hit Parade tunes as "My Last Goodbye," "Careless," "If I Knew Then," "A Million Dreams Ago," "Just For You" and "Now I Lay Me Down to Dream."
Eddy is also a Mercury recording artist of the first water, waxing about 15 sides a year. His singing style became famous a few years ago when his recording of "To Each His Own" topped the three-million mark. He also gained attention with such best-sellers as "My Adobe Hacienda," "Rickety Rickshaw Man," "Ragtime' Cowboy Joe" and "Sin."
The Howard Orchestra plays nightly except Sundays, from 7 p.m. to 2 a.m., with Tommy Purcell's orchestra performing as the alternate band from 9:3O P.M. until closing. During the Roosevelt Grill engagement the Eddy Howard orchestra will broadcast Thursdays and Saturdays from 10:30 to 11 p.m. over the CBS radio network.