Ted Lewis was one of the original big band leaders. He sang (or spoke) songs in a way that resembled ... say... Boris Karloff narrating over a 14 piece orchestra.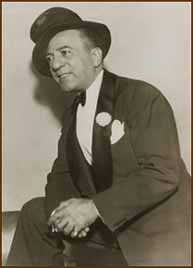 His musical interpretations were dramatic, nearly comically so when listened to today but he was extremely popular in the 20's Ted Lewisand early 30's and great musicians like Benny Goodman, Muggsy Spanier and Jack Teagarden were at some point, employed with his orchestra. Ironically, it was musicians like these that ended up knocking Ted Lewis off the charts for good.
By the mid-thirties, the swing bands were in full gear and the "sweet bands" sound was cornered by the likes of Sammy Kaye and Guy Lombardo. Lewis did however, continue touring and performing until the late 1960's. For over 50 years, the man with the smashed-up top hat would ask that musical question "Is Everybody Happy?"
Tips on Tables - Robert W. Dana - March 14, 1953
Wearing his 40 years in show business as jauntily as his battered top hat and ever-tuneful clarinet, Ted Lewis is answering his own question by making everybody happy as headliner of "Folies Parisienne" at Lou Walters' Latin Quarter.
The extravagant production changed twice yearly, lends itself admirably to the styles and moods of the stars that intermittently space its sequences, but it almost always keeps itself intact.
In this instance though, the integration of Lewis' handpicked company as a nucleus of a performance that runs through most of the show is so outstanding that you leave the club with the impression that Lewis took over.
This is as Lou Walters would have it, otherwise he wouldn't book the amiable, gray-haired chap who makes such lyrics as "Is Everybody Happy?" and "When My Baby Smiles at Me" seem for the moment, the very foundation of life. Few, if any, noticed Lewis when he strolled into the ballroom dancersrapidly filling room about 7:30 p.m., with a scarf about his neck and a preoccupied look. An hour later he was on the floor, in character, in command.
After the usual flashy opening of the Latin Quarter's beauties in "On a Parisian Boulevard," Ted Lewis takes over first with a solid solo bit and then off and on for the rest of the show, until the Dagenham girl pipers fill the huge room with the sounds of drums and bagpipes.
The Latin Quarter beauties are permitted to show themselves in exuberant mood for a few minutes in the Parisian can can, then Lewis subtly and dramatically presents his retinue.
One is Leni Lynn, a redhead ostensibly on the floor for his autograph. She stays on for a mighty nice session of singing.
Joan Lowe, singing and dancing blonde niece of Joan Crawford, is another Lewis assistant who scores.