Tips on Tables - Robert W. Dana - September 7, 1945
Joe E. Lewis, clown supreme of the country's cafe circuit, began his annual stint at Monte Proser's Copacabana last night and unveiled potent joe e lewisnew material that jolted the risibilities of the hep first nighters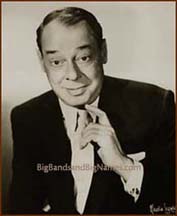 with endless hooks and jabs of topflight comic significance. It seems superfluous to say that Joe was past master, in his own ripely humorous mold; the rough edges that have become the veneer of his act were so admirably fitted that the comedian emerged, possibly for the first time, as a comedian of great polish who disdained the ad lib as a needless instrument of rescue.
Everything was new and there was plenty of it. Whoever wrote the perfectly tailored material for Lewis, no doubt at a very good price, should receive some sort of award. There isn't a dull one in the lot. You'll be hearing about them. "Let Me Make a Buck Too," "They Won't Let Me Put It on a Platter" (James Petrillo please copy), the delicious version of "All of a Sudden" and the ode to a manicurist called "I've Gotta Get Buffed." Lewis and comic success are inseparable buddies.
Good Show, Too.
All this and the Copa show, too. It's another golden age comedystunner, staged by Douglas Coudy, costumes and millinery designed by Ted Shore, musical score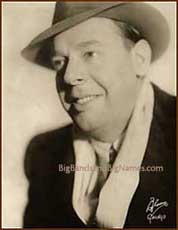 by Peter de Rose and Charles Tobias and orchestrations by Kenneth Ricketts.
Even from a poor vantage point, which necessitated craning the neck and peeping under and over the broad shoulders of Toots Shor and others. I was delightfully entertained by the superb ballroom work of Pierre De Angelo and Vanya. Truly the Copa has made an inspiring selection. And the dance furthermore, is given additional glory at the hands and feet of Miriam Lavalle, who does such turns with her supple body to make the unaccomplished spectator marvel at such youthful skill
Singing Goes Smoothly.
Singing is nicely taken care of by Dorothy Claire, a stylish blonde with considerable verve and vocal skill. Kirk Wood, the romantic type, with looks and a great voice and Fernando Alvares, a Copa alumnus, who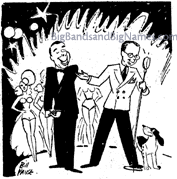 Is back to handle the Brazilian stuff.
With such bounty of personal performance, it is easy to Lewis Cartoonoverlook I the Samba Sirens, who never have been exactly overlooked before. The eight girls are endowed with all the beauty of face and body you could wish, they move through their routines, like a school of well-trained horses and the costumes vie with the models for attention.
Joel Herron and his orchestra hitherto relegated to the position of show band without the distinction of billing, now is the top deserved promotion. They are assisted by Noro Morales and his band.