Tips on Tables - Robert W. Dana - February 1, 1958
This is the 15th anniversary of the Blue Angel, at 152 E.55th St. The list of stars introduced there by owners Herbert Jacoby and Max Gordon reads like a Who's Who of the supper- club world. Always in search of brilliant new talent, the club's latest subject for critical acclaim is Phyllis Diller, a comedienne from San Francisco with a scathing wit.
Few subjects escape her barbs, but Los Angeles is one of the chief victims, with lines like "They planned a 75-story skyscraper, then built it horizontally around a swimming pool." Her take-off on Eartha Kitt, a Blue Angel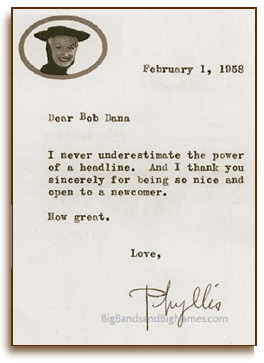 alumnus singing "Monotonous" is hilarious. Phyllis' version is called "Ridiculous," and she sings it while slithering all over the top of the piano, breaking up Bart Howard, her accompanist.
Mom-Daughter Duo.
She joins a group of other highly talented performers. One is the very unusual act of Carolina and Belin, mother and daughter singing duo. Carolina Segrura, former star of Italy's LaScala Opera Company, and daughter Belin, whose father is the oldtime musical comedy star, Everett Marshall, offer such numbers as "Chi la-la" in Italian, "Meo Limao" ("My Little Lemon Tree"), a Brazilian song, and "Pecao, an Afro-Cuban song about a Chinese fish vendor.
Bobby Short, the pianist and singer, is making his first Blue Angel appearance since his debut there in 1945. Since then he's become a favorite with lovers of show tunes in Paris (at the Mars bar, where Americans go when they become homesick), Los Angeles and, most recently, at the Interlude in Chicago.
Bobby's repertoire is tremendous, and by the time he's through the half dozen numbers per show, he has to bow off to much applause. The other night he selected "The Most Beautiful Girl, in the World," "Hottentot Potentate," "The House of Flowers," "Bye, Bye Blackbird!' and "At the Moving Picture Ball."
Homey Comic.
I got quite a kick out of comic Bob Lewis, assisted by his wife, Ginny. Lewis undersells his act constantly, interspersing his jokes with magic (especially some clever work with a rope) and plays the banjo. He has the flavor of a Will Rogers, a Herb Shriner.
The Blue Angel, lounge opens at 5:30 p.m., with cocktail session until 7 pm. During this period all drinks, from champagne, to cokes, cost .50 cents, and Alex Fogarty plays the piano.
Dinner is served in the lounge between 7 and 10p.m., when the first show is presented in the main room. Music there is provided by the Jimmy Lyon trio and pianist Bart Howa a top young composer and emcee. From 2 a.m. until closing nightly except Saturdays. Bobby Short alternates with Jimmy Lyon in the lounge.