Spanish bandleader Xavier Cugat was the most popular Latin-American bandleader of the forties. He was a flashy showman and dressed his band in colorful attire like flaming red and gold. Cugat began his bandleading at the Waldorf-Astoria and reviewed here is his triumphant return to that particular venue.
Tips on Tables - Robert W. Dana - June 17, 1951
Xavier Cugat, who opened another season for the Starlight Roof of the Waldorf-Astoria last night,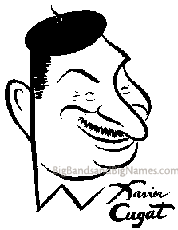 took pride in pointing to the miniature balcony sections of the narrow but lengthy room.
"That's where I started in 1930," he said, "with seven men at $700 a week. They soon had me down here, where the name bands play. Now I'm back with 20 men, most the hotel has ever had at the highest salary they've ever paid."
And Here's Why.
He then went on to prove why, to the great satisfaction of the multitude of the fans and an ample section of Waldorf top brass, including Conrad Hilton, president: Joseph Binns, vice president and C.C. Phillippe, catering manager who gave a couple of long, well-set-up tables minute inspection at an early hour before repairing to his own large table where Mayor and Mrs. Vincent R. Impellitteri were honor guests.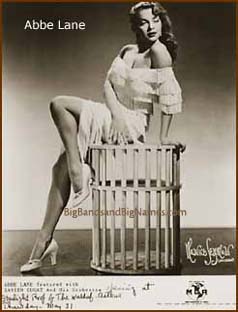 Albert the headwaiter who moved up from the Wedgewood Room, was a happy man amid the glitter of the important opening, and Rene Black, maitre d'hotel. lent his usual precise presence in a white, summery dinner jacket.
Glamor Room.
In many ways, the Starlight Roof is the Waldorf's abby lanemost glamorous public room, with it's tremendous grill-like ceiling with large sky-blue stars and myriad small ones blinking a constant welcome. It is, indeed, a visual room, most emphatically accentuated by the Cugat crew.
Most of the men of this dynamic, mostly latin-grooved band, wear royal blue jackets with gold trim and pink ties arranged in what Cugie calls chalina style.
For contrast there is a Dulcina, a slim bundle of curves who fans the room with rhythm in black, slinky gown with tremendous fuchsia mangas sleeves, and her male opposite number, Otto Garcia.
Flamenco Dancer.
Another Otto - Bolivar- plays the bongo drums with authority, while El Gringo in white mangas, springs down from his drums for a special interpretation of "Tico Tico." Trini Reyes dances the flamenco in striking fashion,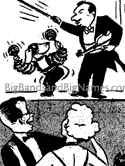 particularly to her own heel beats without help from the band, and Tato and Julia are colorful as a dance team.
Now that he's back, you must enjoy his featured singer, cartoonAbbe Lane - a brunet charmer of 19 years.
The maestro paid a fine tribute to Mischa Borr and his orchestra, who have done such a good job for many years as the alternate band in the Waldorf's main entertainment rooms.
Cugat seemed to forgo photos of himself for caricatures. An artist as well, he even signed his autograph with a cartoon of his likeness.