Born in Jacksonville, Florida, Dorothy Shay, known as "The Park Avenue Hillbillie" inherited a tendency to sing from her mother, but her initial attempt to entertain was in the legitimate theatre. From high school she went to the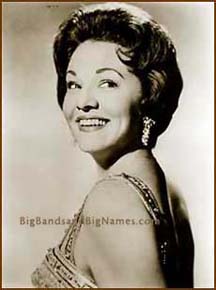 famous Pasadena Playhouse. To earn tuition between sessions she sang at the Jacksonville Hotel, the Roosevelt, and later, the George Washington.
After an unsuccessful attempt to enter radio in New York, she was introduced to Betty Shay, head of auditions for NBC. At her suggestion, Dorothy toured with the USO for one year and then appeared with Morton Gould in a New York supper club. Mr. Gould suggested she change her name (Dorothy Sims), so she picked the name of her benefactor, and thus became Dorothy Shay.
t was quite by accident that Miss Shay acquired the persona of a hillbilly. One night after going through her entire repertoire and the customers still clamoring for more, she stood in front of the microphone, bathed in light and wearing a Dior creation, struck an awkward pose of a mountain girl and sang the lyrics of an obscure number called "Uncle Fud". The sophisticated audience loved it and night after night thereafter kept calling for 'that hillbilly song".
Tips on Tables - Robert W. Dana - May 2, 1961
It's a fair piece of country road from Florida to Tennesee, but a fair lady from the Sunshine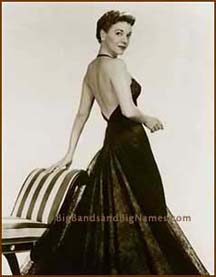 State named Dorothy Shay has been using lusty characters from the Volunteer State's mountain region for nigh on to 17 years with vast success as props for a cafe singing act. In her newest engagement in the Maisonette of the St. Regis, where she first opened in 1944, the Park Ave. Hillbillie, as she is known, Shay is flanked for the later sequences of her act by "Cuzzin Agnes Clung," portrayed by singer-actress Jo Ann Miller, and "Uncle Fud," interpreted by Broadway actor Curtis Wheeler, two kinfolks she introduced last season as evidence of her professional antecedents.
Dorothy is a cool cucumber when it comes to cafe performing, relaxed to the extreme. and always gorgeously attired. At last Friday's opening dinner show, she wore a shimmering sheath of pale blue covered with iridescent paillettes and rhinestones, a number whipped up for her by Edward Sebest of California.
Miss Shay doesn't believe in opening songs, so in order to be properly launched she states she will sing a medley of songs most required that she doesn't sing. The title of the next sequence, long enough to choke on, is "Whatever Happened to the Man That I Married Who Used to Be So Nice Around the House, Cha Cha."'Actually, this is one of her oldies, tailored especially for St. Regis audiences and a change of pace from the hillbillie stuff.
Soon, though, she arrives at "Uncle Fud," An ode to inbreeding that captures the full flavor of the mountain characters and is a natural curtain raiser for the entrance of the mixed-up kinfolks.
They dance a bit, strut a bit and gawk a bit in such numbers as "Come Home" and "It's Confusin." Then Dorothy does a neat duet with Miss Miller on "Carolina" 'and they conclude with the amusing "There's No Market for a Country Girl Today." Some people seem to think Agnes and Fud are extra baggage that might be dispensed with, but I like them. The new number called "Experience," which Miss Shaw introduces near the end of her program is another departure from the hillbillie theme. With Hollywood firmly within its sights, it lets go with both barrells. The lines, so innocently dropped, are razor sharp.
Buddy Freed is the musical conductor of Milt Shaw's orchestra, for the performance. Miss Shay, fortunately, still isn't sick of the Tennessee mountains. How could she be? She never has visited them.