No one can say just when swing music was invented but most agree it was Benny Goodman's August 21, 1935 engagement at the Palomar Ballroom near Los Angeles that sent the "sweet" big bands into retirement. His appearance there was fueled by LA disc jockey Al Jarvis and his "Make Believe Ballroom" radio show. Legend has it he swung so much that day, the gates had to be opened so kids could dance in the streets. This ushered in the swing band craze which dominated (and saved) the recording industry for another 10 years.
Tips on Tables - By Robert W. Dana - February 17, 1956
Benny Goodman, the great clarinet maestro, with 13 men playing loud and clear with fantastic technique,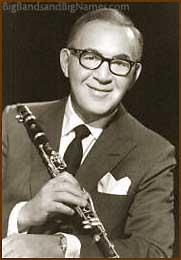 is turning back the clock in the Empire Room of the Waldorf-Astoria. The King of Swing played the room almost 20 years ago and, musically speaking, you'd never know a month had gone by.
The great names of the past-Krupa, Wilson and Hampton-are missing, but they're ably replaced. Mousie Alexander may not have the fire of Krupa, but he has a fine, crisp technique and does more with brushes than many do with sticks.
Benny says he's enjoying tremendously playing with such artists as Jim Maxwell, Mel Davis and Fern Caron on trumpets, Urbil Green and Rex Peer on trombones, Budd Johnson, Walt Levinsky, Al Black and Sol Schlinger on saxophones, Hank Jones on piano, Irv Manning on bass, Steve Jordan on guitar and Mousie on drums.
"One O'Clock" Jumps.
The band Plays "Let's Dance" and "Bugle Call Rag" for a starter. Then "One O'Clock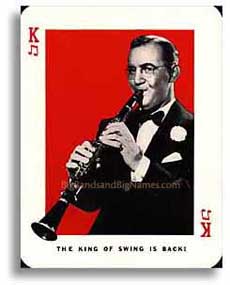 Jump" starts with a whisper and builds to maddening heights, while the audience seems to build right with it.
Then, In quick contrast, Benny presents Mitzie Cottle, the in most refreshing band singer I believe I've ever seen or heard. She's a breath of spring, who sings Sundays in the choir of Marble Collegiate Church. Her numbers are "This Is My Lucky Day," "Blue Town" (from Pajama Game") and "S'Wonderful."
The introduction to "Bach Goes to Town" is just a bit of rhythm on the cymbal, then Benny, with three clarinets and tenor horn, play counter harmony, just as Bach would have it.
Chews in Rhythm.
Next comes the Goodman trio. The drummer chews gum in rhythm all through "Sweet Georgia Brown" and Hank Jones, at the piano, seems just as able as Teddy Wilson was with the old Goodman band. They also play "Memories of You." theme song of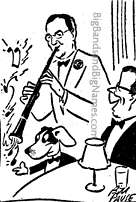 "The Benny Goodman Story," the movie which opens next Wednesday at the Capitol Theater.
When the band plays "Sing, Sing, Sing," you close your 'eyes and make believe you were back at Carnegie Hall in 1938, when Benny made everyone sit up and take notice. The latter part of the number features soloists almost barbaric in rhythm, with Mel Davis ably portraying a Harry James solo and Benny doing a solo with the drums and almost daring Mousie to keep in tempo. It makes you wonder how it was possible to be without Benny's music for so long.
Nat Brandwynne's fine band stays on in the Empire Room to help out with the dance music.
Pictured is an autographed letter from the King himself thanking mister Dana for his kind review and specifically for his Benny Goodman Autographmention of vocalist Mitzie Cottle's debut with the band. Benny must have softened with age 'cause he was renown for being very difficult to please by his lead vocalists. The article refers to how much mister Goodman enjoys having new musicians in his ensemble but many past alumni knew what it felt like to be the recipient of the "Goodman Ray", that glaring look that he would give any musician who would perform in a way not within his vision, just how displeased he could be with their performance. Once you received "the ray" you might be inclined to find another band. When my wife and I would visit Mr. Dana in his one bedroom apartment in Virginia, we spent a lot of time listening to his stories about his encounters with the great stars of the past but ironically it was this autographed letter that slipped out of his collection of memorabilia that made me realize just how important he once was. Goodman performed until his death of a heart attack on June 13, 1986. He was survived by children Rachel, Benjie and three stepdaughters from wife Alice's previous marriage.