This news release was written to precede Dinah's appearance at the Waldorf on January 13, 1955. The letter from Dinah to Mr. Dana is actually autographed and mentions his review of her performance at the WEDGEWOOD in 1949 or 1950. Notice the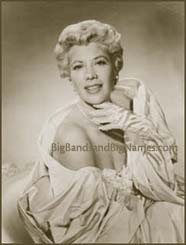 initials DSM on the letterhead. At the time, she was married to actor GEORGE MONTGOMERY whom is also mentioned in this press-release from Dinah's agents ROGERS & COHEN. George was also married to GINGER ROGERS at one time, among others. Dinah had one of the breeziest singing styles of all time but many people remember her for her talk-show and affair with (a considerably younger) Burt Reynolds.news release JOE WOLHANDLER Eastern Publicity Director
Rogers & Cowan
NEW YORK: 17 EAST 48th STREET, NEW YORK 17, N. Y.
PLAZA 9-627
CALIFORNIA.- 177 S. BEVERLY DRIVE, BEVERLY HILLS, CALIF. , CRESTVIEW 5-4581
FOR IMMEDIATE RELEASE PLEASE
Dinah Shore's Waldorf-Astoria opening in the Empire Room, Thursday January 13th, will introduce a complete new supper club act., prepared especially for this New York engagement.
Dinah has been working with Nick Castle, Hollywood's top dance director staging new dance routines. One of Hollywood's top designers, Jean Louis, has fashioned the fabulous gowns the TV and recording star will wear in the Empire Room during her three-week engagement. The Skylarks, a singing group from her TV show will appear with Dinah at the famed supper club.
The new songs and arrangements that -Dinah will introduce at the Waldorf have been styled by her musical director Ticker Freeman., who is also Dinah's accompanist. Harry Zimmerman, musical director of her TV show will come east with Dinah to help with her two-show weekly TV program which the popular songstress will do from New York on NBC-TV 7:30 - 7:45 p.m.
Dinah has repeatedly turned down offers from the hotels and clubs in Las Vegas. Miss Shore prefers New York and has decided that her first supper club date in three years will be in the same room where she introduced one of her greatest hits. "It's So Nice To Have A Man Around The House was first sung during her last engagement at the Waldorf.
Advance reservations from such celebrities as Eddie Fisher with Debbie Reynolds, Janet Leigh, Tony Curtis., Frank Sinatra and George Montgomery indicate a great opening night and a new all-time record for the Empire Room.