HOTEL ROOSEVELT, - NEW YORK
45th Street & Madison Avenue
Murray Hill 6-9200, ext. 106-200
PUBLICITY:RENEE KLUGER
FOR IMMEDIATE RELEASE / August 29, 1957
SAMMY KAYE AND HIS ORCHESTRA OPEN AT ROOSEVELT GRILL, SEPTEMBER 16
Sammy Kaye and his "Swing and Sway" orchestra will opon an eight week engagement as the headline attraction at the Hotel Roosevelt Grill on Monday,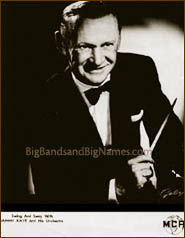 September 16, it was announced by Roosevelt General.. Manager Edward L. Buckley.
Kaye, one of the nation's top bandleaders ever since his recordings of "Daddy" and "Remember Pearl Harbor" hit the best-seller lists in the earrly 1940's, will be returning to the Roosevelt Grill where he had a highly successful engagement last spring. He Is presently winding up his sumer tour with an engagement at the Steel Pier in Atlantic City.
Appearing with Kaye's orchestra will be vocalists Barry Frank and blonde-end-beautiful Sandi Summers. Also on hand will be the Kaydets and the Kaye Choir.
Kaye, whose recordings have sold more than 50,000,000 to date, is one of the best-selling recording artists among bandleaders. His newest hit, on the Columbia label, is "Moonlight Swim" backed by."'Mary Lou."
Sammy Kaye and his orchestra. will supply swing and sway rhythms for dancing at the Roosevelt Grill nightly except Sundays from 7 P.M. until 2 A.M. Cover charge after 10:00 P.M. will be $1.00 per person on weekdays and $1.50 on Friday, Saturday end holiday evenings. There is no minimum. Entrees range from $2.75.
The Kaye orchestra replaces Eddie Lane on the Grill bandstand.