I don't often include two reviews but in this case, it was interesting to see how Mr. Dana's opinion of Milton Berle had changed in the nine years between these two performances. Actually, Mr. Dana's writings on Uncle Miltie had always been kind, but it seems the latter, late-50's performance, struck a nerve with the New York columnist.
Tips on Tables - Robert W. Dana - August 30, 1948
The country's greatest night club entertainer, Milton Berle, is filling a limited engagement at the Latin Quarter, which in turn is filled to capacity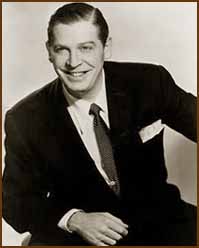 nightly and turning them away by the hundreds. So you better attend a performance by hook or by crook so you can tell your grandchildren how one funny man split your sides with laughter for two solid hours in the hottest New York weather you ever hope to see.
They say Milton is coining $15,000 a week for the engagement. I might not have thought or said so last week, but today I'm convinced he's worth every penny of it. He works about three times as long and as hard as the average top star and probably would do more if it weren't for the fact that service and drinks must go on.
Fast and Witty.
As soon as the opening production number, "I've got Rhythm" which was launched with the engagement of Ina Ray Hutton, is over Mr. Berle comes out shooting fast and witty lines that have no apparent weakness. Like the champion golfer or tennis player, he's on the top of his game of comedy at every moment. He uses the comic interlude as a warmup for his evening's work, when he could well save it like any other performer for a show's finale.
The fact is that Milton Berle loves his work and is enough of a ham to want to be on the scene all the time doing the type of thing Durante does so emphatically, with mock fury. He is a mimic, a clown and one not afraid to make himself appear ludicrous.
For instance, few chaps would relish the idea of coming out as an extra "girl" in a number called "I'm a Big Girl Now" - rouged in lacy things with pale, hairy legs looking like sad imitations of the real things. Even the chorus girls seem embarrassed at such mockery of their charms, but Mr. Berle loves it.
The Hillbilly Act.
He allows himself to be tossed about by the amazing Far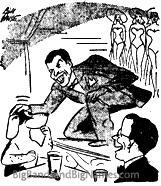 Eastern acrobats, the Kanazawas, and does some hot rhythm dancing with the ace rhythm masters, Son and Sonny, but the most hilarious portions of his contributions to other acts are his interpretation of hillbilly Elmer, with the stringy hair and discolored teeth, as he appears with a mountaineer group from the Ozarks, and his singing in blackface with Sid Gary, the splendid radio baritone.
A great one to give others a lift, Mr. Berle is helping to win new fame for Gary, who stops the show cold.
The Latin Quarter has the best show in town, at least as long as Mr. Berle is around.
Tips on Tables - Robert W. Dana - November 25, 1957
Unconfined by the boundaries of television censorship, with which he was conversant in recent years, and free to cavort again in the cafe playground of his apprenticeship, comedian Milton Berle returned to the Latin Quarter Thursday after an absence of 10 years. Many beads of perspiration later, he received a standing ovation from many in the audience.
The fact that just as many remained seated may be accounted for by the fact that they refused to recognize with such all-out enthusiasm a performance which was a flagrant effrontery to good taste. This was no Uncle Miltie, beloved of the TV kiddie audiences. This was a man who apparently has forgotten that New York is the most exacting city in the country in its Berle at Latin Quarterstandards of behavior for comedians.
This is not to say that the Berle show doesn't have its moments of merriment, its high points of song and dance. In fact, it gets off to such a whirlwind start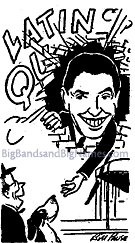 with Bob Kennedy singing "You Gotta Have Girls" in the opening production number with the Latin Quarter beauties and with the comedian's opening five-minute salute of witty lines, that one felt he was digging in for one of the most rewarding hours of the cafe year.
Berle's timing is tremendous. Right after delivering a line like "Comedians come to hear the funniest jokes they've ever done" and moving on to say "I love this room with mirrors; you can watch your act die," he tosses an aside to the orchestra leader, "Your music is great." Then he sings a brilliant arrangement, with special lyrics, of "Manhattan Towers."
Betty George, the Grecian singing beauty is Berle's first subject on which to hang a few lines. That she is able to sing after he has wrung his best words out of her buxom figure is a tribute to long endurance.
Next comes Stan Fisher, a very fine harmonica player.
Others who perform in a highly professional manner once they are allowed to escape a series of indignities, are the Metropolitan Sextette, a group of singers, and the Dunhills, three fellows who dance superbly.
Milton Berle has the ability to be the great comedian everybody calls him. All he needs is a compass to set him in the right direction and a governor for his animal emotions.