Vincent Lopez began his first band around 1917 and by the early 20's was one of the most popular dance bandleaders in the country along with Paul Whiteman, Isham Jones and Ted Lewis to name a select few. In 1941, He opened a short engagement at the Hotel Taft Grill that ended up lasting over 20 years and for a time,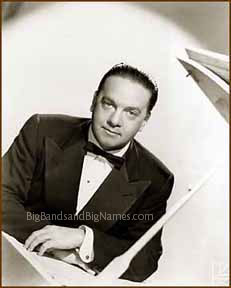 held the record as having the longest continuing career in the history of the dance bands (Les Brown now holds it). The Lopez orchestra was also the first dance band to broadcast live on the "wireless" at the pioneer radio station WJZ on November 27, 1921.
Among the stars that began their career with Lopez were Artie Shaw, Xavier Cugot, Tommy and Jimmy Dorsey, Glenn Miller and Tony Pastor. Also vocalists Betty and Marion Hutton sang with his orchestra but on one occasion, part-time saxophonist Rudy Vallee was told by Lopez NOT to sing... an order he evaded the minute Lopez left the bandstand.
Wednesdays through Fridays, Vincent had everybody howling at the Hotel Taft's Grill Room in New York City with his "Shake the Maracas" show. People came from miles around to participate and compete for miniature piano lighters and a set of maracas, and to hear Vincent Lopez utter that famous line on the microphone like he did at WJZ over 30 years earlier ..."Lopez Speaking."
Tips on Tables - Robert W. Dana - August 21, 1954
One of the most successful figures in the hotel and cafe phase of show business over a period of years is Vincent Lopez, musician, band leader, showman, scholar and author. On June 27 Vincent and his orchestra, started their 14th year of playing for lunch and dinner- dancing in the Grill Room of the Taft, Seventh Ave. and 50th St.
I dropped by the grill Wednesday afternoon to say hello to the piano maestro and find out about a possible state of boredom. He was alive, articulate and elated over the success of his first presentation of "Fashions With Music." And he could not wait to finish telling about this new caper before he spread out his whole deck of previous innovations: "Shake the Maracas," "Meet the People Interviews" and Monday afternoon concerts.
Style Show With Music. "Fashions With Music" will be featured once a month, showing dresses of leading designers and tied In with the band's music. A panel of feminine judges Is selected from the audience to choose three outstanding dresses from about eight. These, made to fit, are awarded to three winners of numbers In a balloon dance directly following the modeling.
As Mr. Lopez says: "In Tin 'Pan Alley, when a composer gets an idea for a song, he almost thinks of a girl he connects the song with -' Sweet Sue,' 'Cecelia,' 'Rose Marie.' With me, it's the other way around. A pretty girl makes me think of a song, like the first pretty girl in the fashion makes me think of the burr and a touch of heather in 'Roamin' In the Gloamin'."
Another Frolic. Not long ago Vincent decided to hold concerts Mondays from to 2 p.m. in the grill. No dancing, no vocals, but music to represent the tastes of the entire country, hillbilly to classical, old-time and modern. An innovation that is delighting the lunch crowd on this day, and no tax, either.
On Wednesdays and Saturdays the customers howl as they join in the game of "Shake the Maracas." The contest starts with a brief interview or chat with the band leader. The contestant then sings or dances his or her specialty and concludes by shaking the maracas to the rumba tempo of the band. Vincent Lopez has long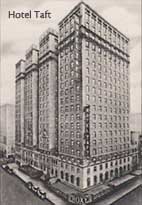 been a student of numerology and has authored two interesting books, "What's Ahead" and "Musical Horoscope." His next volume, "My Key to Life or What I Learned in a Monastery," is scheduled for publication in December. He uses this special knowledge of numerology for a feature he calls Forecasting Time." Customers fill out cards with the month and date of birth, and Mr. Lopez sometimes answers as many as 50 of them In 10 minutes. For what he calls "themorization," he takes the letters of a name related to numerals and puts them together to find the musical melody that best reacts to the name.
Radio interviews.
During the week Vincent has 11 radio wires and during these broadcasts interviews customers at ringside. At least 45 percent of the customers come from the metropolitan area. The strongest out-of-town -play is from the South, particularly the Carolinas.
Various publicity photos of piano maestro Lopez. Above, with visitor Joan Crawford, and below, a contestant in "Shake the Maracas." I'm not certain if Mr. Dana and Mac the beagle really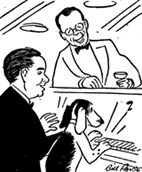 commandeered Mr. Lopez's piano that day, but if they did, it must have looked something like this Bill Pause cartoon.
Today, The Hotel Taft is now the very exclusive Michelangelo Hotel. This is a big chain in Italy. These exclusive hotels are in every famed Italian city but the only one that is not in Italy is the New York Michelangelo (in the Italian spelling and pronounced "mee-shel-angelo). The entrance is now at 152 West 51 Street. The new lobby is spectacular and designed by the top of the line decorators