Hildegarde was born in Adell, Wisconsin and raised in New Holstein, Wisconsin. Her father, a merchant, played the drums and fiddle and her mother was an organist who directed the church choir. When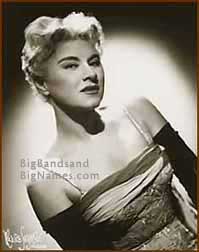 she was twelve, the family moved to Milwaukee, where she and her two sisters participated in the school choir and orchestra. Her first desire was to be a concert pianist and she enrolled for awhile at the School of Music at Marquette University. However, circumstances prevented her from continuing, so she went on to find work in vaudeville.
After several years of this, Gus Edwards "discovered" Hildegarde and sent her across the country in a travelling show. Later she went to Paris where she gave her first command performance for King Gustov of Sweden in the Casanova, a Parisian Boite. She continued to appear in many famous rooms in London, Cannes, Brussels and at private concerts.
In the late 40's and through the 50's Hildegarde was considered by many to be the top dinner and supper club entertainer in America but it was in New York where she headquartered her performances.
Hildegarde's favorite prop was her handkerchiefs, of which she had a large collection of (even her table cards featured tiny hankies embedded in them). She sported stunning gowns by Fontana of Rome. Roses, long gloves and upswept hair were also personal signatures.
Tips on Tables - Robert W. Dana - November 27, 1953
From Sept. 22 to Dec. 15 is a long run for any single entertainer engaged by a smart hotel. That's just what Hildegarde is doing in a return to the Cotillion Room of the Pierre.
Some high points of her opening night she has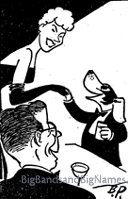 retained. Others she has dropped. New touches she has inserted. It's fun to go back and see this editing being made on the basis of her audiences' judgment."
I must be more careful in the future when I say that Hildy plays a piano solo pleasantly. The word "pleasant" isn't sufficient praise for such a number as "Portrait of a Flirt," she intimates to her audiences and, on second hearing, I agree with her. It's most pleasant.
Catchy Addition.
Off and on since seeing and hearing Hildegarde again I keep humming a number called "Merrily, Merrily" with which she's wooing the customers in three quarter time. It's a right catchy addition to her all-time repertoire and should have long life.
She's doing a wonderful thing by featuring a beautiful Cole Porter that had the misfortune to be part of a musical that sputtered out after a short run.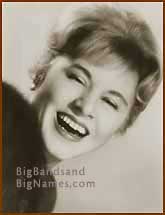 The name of the show was "Seven Lively Arts." The name of the song is "Every Time We Say Good-bye." I hope she records it. It then might win the popularity of a song like "Gypsy In My Soul," which came out of an excellent Pennsylvania Mask and Wig Show.
Giving roses away to customers has long been a Hildegarde standard. She plays the act with humor and lightness. Her ad libs sparkle. She gives the recipients a feeling of composure that makes each episode entertaining in it's own way.
Momentum Grows.
There is a definite building of momentum towards the finale when Hildegarde calls in the Cotillian Strings, new addition this season to Stanley Melba's orchestra. They join with Hildy's own quartet of musicians to provide background for lovely Viennese melodies and American favorites of long ago.
Hildegarde plays the piano and sings favorites like "I Don't Know Why" and "Lady Be Good" and ends by putting intense feeling into "Do I."
Yes, it's a long run and you can still catch her.
Hildegarde has the wildest penmanship I've ever seen. It doesn't just go left to right - but drops vertically at some points. That "E" at the end of her name really takes off. Her signature was her logo.