Tips on Tables - Robert W. Dana - May 2, 1952
In London's famed Palladium, which books only the cream of the crop from American show business, Billy Daniels recently sang "Sunny Side of the Street" as the rain beat down on the street.
Last night, in clear, coolish weather,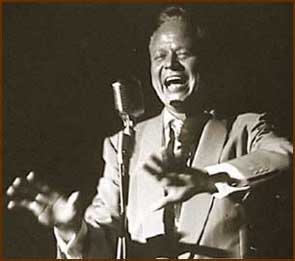 the ace singer was presented by Jules Podell and Jack Entratter at the Copacabana in the continuation of a policy of frequent changes. In his first American cafe date since the Palladium triumph, Billy wears derby and flourishes an umbrella as he sings the same "Sunny Side of the Street."
Sunny Side Up.
Coming midway in his performance, it touches off a sequence of five numbers that are unmatched for feeling of expression. What -care- we for wind or rain when Billy sings about sunny side. With his musical arranger and piano accompanist, Benny Payne, furnishing occasional excerpts of a duet, you enjoy the game of life with them.
Second in sequence was "Love For Sale," the story of a streetwalker that is a classic usually sung by a woman. Daniels gives it surprising depth. Then from the Harlem days at Dickie Wells' came "Bye, Bye, Blackbird." The poignant "Yiddishe Mama" and the pulsating "Old Black Magic" concluded a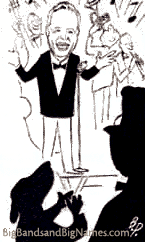 dynamic performance.
The Douglas Coudy revue is completely new, with some new beauties in the chorus, new costumes and new songs by Joan Edwards and Lyn Duddy. The first production number is the humorous, witty, "Please, Mr. President, Don't Put a Tax on Love." The middle number entitled "Summer Symphony" mentions the signatures of spring that are all around us when we get out in the country. The last, "Rock, Rock, Rockaway Beach," is a preview of swim time, with the girls starting out in full costume and peeling down to surprise bathing costumes.
Groucho Burlesqued.
Bobby Sargent, young comedian on the bill, warms cartoonnnnup slowly but goes off with a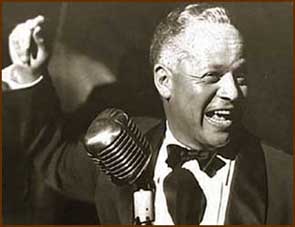 good hand for some clever, clean comedy His best number is a graphic takeoff of Groucho Marx.
For the esthetic touch the club is presenting. Harbers and Dale, ballroom dancers. Their entrance features the man swinging the petite girl close to the floor as if he were trying to cover every bit of space in one flourish. The act continues with lifts and aerial work.
Peter Hanley and Betty Johnson are the new team that sings for production numbers. Well picked, they boast strong, clear voices. Michael Durso and the band play the show and for dancing, with Frank Marti's rumba band alternating.