Dining and Dancing - Robert W. Dana - February 16, 1944
Perry Como, former coal miner from Canonsburg, Pa., is the star of a new show produced by Boots McKenna at the Versailles. One of the popular singing idols of the day, he had a successful tune-up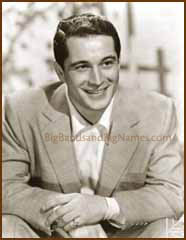 for some months at the Copacabana. He is short, on the stocky side and gives the impression of being quite shy. If one listens to him with eyes closed he sounds much like Bing Crosby or the late Russ Columbo. He even resembles the latter. Following his New York cafe engagement, Como will report at Twentieth Century-Fox in Hollywood for his debut in "Something for the Boys."
While the Versailles has a new producer, the formula is the same. Mata and Hari perform eccentric ballroom dances with skill and color. There is the variety act of Paul Remos and his Toy Boys, two midgets who make their appearance from suitcases. Other featured entertainers include the De Castro Sisters, Larry Douglas, Jack Blair and Ronnie Cunningham. Billy Livingston's smart costumes help the six lovely VerSighs to keep their place among the most glamorous of the town's chorus lines.
There is an interesting change in the Versailles's orchestra. Ray Sinatra, who has been musical conductor for a number of Broadway and radio shows and who has been one of the country's top musical arrangers for sometime, is leading his band for the first time in a night club. An interesting sidelight is the fact that he is arranging for Perry Como, who is a rival for Frank Sinatra, Ray's cousin, whose arrangements he also makes. Monchito and his rumba band alternate with Sinatra.