Tips on Tables - Robert W. Dana - April 30, 1956
The old belief that everything should be bigger and better, a thought most forcefully pronounced by Hollywood trailers, can be applied with forthright honesty to Mae West, who has returned to the Latin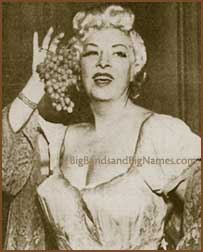 Quarter, where she scored heavily in the fall of 1954.
Instead of changing her act, Miss West embellished it. Most noteworthy, I think, is the addition of some song-and-dance men whose soft-shoe capers and grace provides a fair contrast to the muscle boys who are the background for her boudoir comedy. They rock and they roll and Miss West demonstrates that her vocal chords are as roving as her come- hither eyes.
Chorus of Goliaths.
This is the one chance for women to get back at men who go to the Quarter to ogle the pretty dancing girls. Miss West, stretched on a chaise lounge with a plush, seductive look, allows a ringmaster (they call him ambassador) of the Olympic games to trot Out eight Goliaths of the day, clad in breech cloth and sandals, with muscles seemingly built upon muscles.
Packaged in regal white robes, they march first toward the audience then turn to Miss West and throw back their robes. Her expression of approval regale the customers. One of the muscle specimens is Mickey Hargitay, Mr. Universe.
Mere Singer Handicapped.
As before, Miss West pretends to have a bona fide romantic interest and her current candidate is Tito Coral, Mexican singer and motion picture actor.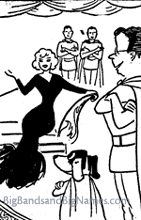 His position is shaky at best and one notes that he isn't included when she passes out keys for the "Ooh What a Night" finale.
The Latin Quarter, because of the length of the Mae West act, has cut down on the number of individual acts, but the three it offers, in addition to the lavish production numbers, "A Night at Maxim's" and "Mardi Gras in New Orleans," are first class.
Sorcerers Apprentice.
Jack Kodell, a newcomer, should become the talk of the town for his magic act. A debonair chap in red, even to his shoes, he extracts parakeets from the air, blue ones, green ones, and a tiny yellow one. The latter watches, from a post on the magician's neck, the master do tricks with a rope. When, by magic, he makes it stiffen like a post, the bird blithely climbs to the top. This is a great act.
Chiquita and Johnson, Latin Quarter favorites, are back with their breathtaking display of dancing and the Metropolitan Sextette demonstrates most dramatically that good opera singing can be appreciated in a night club.