Tips on Tables - Robert W. Dana - March 2, 1951
Billy Eckstine finished the long trail up from 52nd St. swing clubs of other years when he opened last night in the Copacabana. Following a recently signed 10-year recording pact with MGM plus a movie contract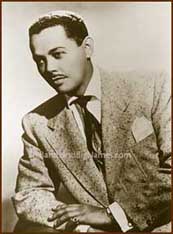 with the company, it was a personal triumph for the handsome singer that he embellished in every way that could be wished.
The voice is a robust, romantic baritone, with just a touch of huskiness on occasion to give it additional appeal. As for the delivery, much has been said and written about Billy's showmanship, the salient points of which are charm, poise and sincerity.
He has had a habit, in the past, of blending notes quite out of proportion to what they originally were intended to be. It has created excitement among listeners for its vocal uniqueness, but I am happy to note that he is modulating this trick in his current limited stand preceding an Easter engagement at the Paramount Theater.
Humor in Lyrics.
Opening with "If You Feel Like Singing, Sing," and following with an Eckstine standard, "Jealousy," which he calls the old tango that lives forever, he reveals with much humor in clever lyrics how "Gone Are the Days" when you could just croon like Vallee, that now you need an animal to whip as in Frankie Laine's "Mule Train."
"But," sings Billy, "I love a ballad, mellow and blue. I love songs I believe in while I sing to you."
And so he does-and beautifully - "I Apologize Old Man River" (actually making, you see it as he points it rolling on down) and one of the top tunes of the day, "If." This was the high point for me - greatest rendition of the song I've heard.
Novelty Number.
The concluding Eckstine number is a brilliant special-material piece that embroiders the sentiment of this melting pot nation of souls with just the right touch of humor to keep it from being maudlin. The title is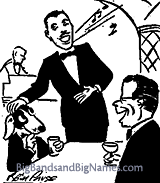 "I Like It Here."
Earlier In the revue the Copacabana presented two other new acts - one the unusual dance novelty called Andre, Andree and Bonnie, In which the man presents the Illusion of working with three mannequins in a hat shop in Paris and finishes with two of them come to life and very talented. One blonde, the other brunet, they have class.
The other new act is by all odds the finest new ventriloquist to make his appearance in the clubs. Young, handsome, engaging Jimmy Nelson, working with a piece of mahogany called Danny O'Day, who calls him a "ventriqolist," he tears the house down with a voice-throwing stunt involving the dummy's singing "Best Things in Life Are COD." Later, for a switch, they take each other's place with realistic results.
Harrison and Patricia continue their sterling dancing, particularly in the production number, "First Snow of Winter." Sonny Calello has a new singing partner in the production numbers in pretty, ash-blond Hope Zee, and Michael Durso, the orchestra leader, proves again his great value in setting the rhythm at the proper pace.