Way back when before he was famous, Jackie Gleason was fired by my Father-In-Law's Father, the Maitre De at a speakeasy called "The Lido Venice" located in Totowa, NJ. His performance was considered too vulger for the bootlegging establishment. This wasn't the case at the performance reviewed below. Jackie barely opened his mouth.
Tips on Tables - Robert W. Dana - February 16, 1953
On two miniature stages in La Vie en Rose, 123 E. 54th St., Jackie Gleason, the top-rating television and nightclub comic, is making his debut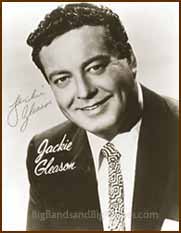 in the orchestral field, conducting his 27-piece orchestra in "Music for Lovers Only."
I was told that Mr. Gleason originally planned to have only 21 men for the engagement, but he found by putting his rhythm section on the smaller stage left he could do a little violin packing.
The fact that the hefty comedian is industrious enough, sensitive enough to pass up some lucrative engagements in Florida is a vindication of his greatness.
Pump and Feint.
From loud buffoonery to touching pantomime, Jackie has turned from a limited two weeks to music he loves, love melodies that are tender and appealing. Music, indeed, for lovers only, which his orchestra already has recorded on two long-playing sides for Capital Records.
There was no clowning either. Only on about two occasions during the opening night show did he acknowledge the audience with a bit of comic flair, like the remark which exaggerated emphasis: "this is the final group."
Music for the program was arranged by C. Dudley King Jr., and each song played is highlighted by a trumpet solo by Bobby Hacket, when the spotlight moves to the stage left to catch the great musician as he stands and plays.
Added Attraction.
The lovers' songs Mr. Gleason picked are "I'm in the Mood for Love," "I Only Have Eyes for You,""Love is Here to Stay," "Body and Soul," "My Funny Valentine"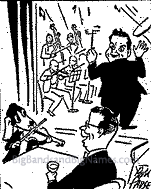 "Love Your Magic Spell Is Everywhere," "Alone Together," and "But Not For Me."
As an added attraction at La Vie en Rose, Monty Proser is presenting lovely Toni Arden. She looked charming the other night in a blue velvet gown with becoming neckline.
On each hearing she seems better, her showmanship growing with experience. I like her program of "All the Things You Are," "I've Got You Under My Skin," "Because of You," "La Mer," "Kiss" and "Come Back to Sorrento."
Between the four shows presented during the Gleason engagement, Van Smith and his trio continue their fine brand of music that that kept them at the club for over a year. The minimum charge is $5.