The saga of Sophie Tucker began somewhere between Russia and Poland with her mother trying to get to the United States to join her husband in Boston. Her mother got off the coach and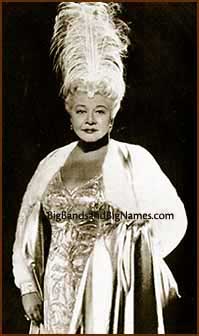 stopped at a little farmhouse and Sophie was born.
Sophie Tucker began singing at the German Village at Broadway and 40th St. in 1906 for $15 a week. From that time until 1912, she played the Park Circuit, a well-known vaudeville circuit of the day. For five years from 1916 to 1921 she was singing at Reisenwebers, where she popularized her immortal theme..."Some of These Days." It was always grand fun when Sophie took the stage - risqué, gay, humorous and side shaking. By 1950, she was revered as a performing legend, a throwback from another era.
Tips On Tables - Robert W. Dana - September 29, 1950
Billed as "The First Lady of Show Business," Sophie Tucker returned this week to star at Lou Walters' Latin Quarter and prove again that the "last of the red-hot mamas' has plenty of heat left. In fact, in one of many plain-spoken numbers she warns "You Can't Deep Freeze a Red-Hot Mama."
Resplendently dressed, with a stunning fur piece and jewelry to set her off, Sophie is in rare good form. During the course of her program she gives thanks in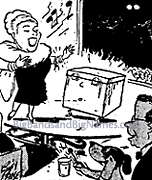 song for all the good things she has earned in 45 years of show business and pays tribute to debonair Ted Shapiro, her piano accompanist for 29 years.
"The newspaper columnists are always paying tribute to the old men in show business like Jolson, Cantor and Richman," says Sophie, "but what about the gal troupers," which leads into a number called "How Do the Old Gals Do it?"Advice to Married Men.
In a number called "Home of My Own," Miss Tucker tells of her apartment, where she can get away from it all. She has a hilarious piece, much of which she does in Yiddish, called "You Got To Make It Legal Mr. Siegel"; she puts spice in "Horse-Playing Papa," gives advice to married men in another number, and has one excellent serious number, "There's So Much To Do In So Little Time."
The supporting cast of the lavish Latin Quarter revue called "Pleasure Bound" will convince you long before Miss Tucker' s arrival that you are seeing an entertainment package that ranks with the best in the annals of cafe shows.
Harrison and Fisher, fresh from a year's engagement at the Lido in Paris, demonstrate how really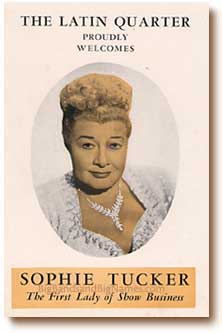 beautiful comedy and satiric dancing, can be. There Is nothing grotesque about their work; rather, by the very essence of their satires, do you see the fine points of their dance skill. I love their tango.
Parisian Models Held Over.
Monsieur Choppy has been held over with his Parisian models. Sophie CartoonIt is one of the most unusual acts seen here–novel, beautiful and mighty clever. In short, M. Choppy paints colorful faces on the models' backs; large hats come down over their necks and they parade and bow to the audience as bride, groom, .prospective mother-in-law and minister.
For acrobatic work there are the popular Billy Wells and the Four Fays; Ralph Wells and Toni Carol are the featured vocalists, the Latin Quarter dancing girls are lovely as ever and Art Waner and Buddy Harlowe handle their orchestra chores neatly.
Added Notes.
Max Kaminsky, whose Dixieland Five supplied the music for the revival of the Charleston at Le Coq Rouge will Introduce a new series of Charleston nights, Tuesday at Ben Harriman's new Aquarium Cafe, 150 W. 47th St. The club Is giving 50 per cent off on food checks to servicemen in uniform . . . Bill Massari has extended the contract of Little, Sans and Lee for six months at the Orchid Club In Jackson Heights.