Born in Boston to parents of modest means, Raymond Wallace Bolger admitted that he was the outstanding wallflower of his native Dorcester High School. At the senior prom, he danced the waltz no matter what the band played. After high school, Ray haunted local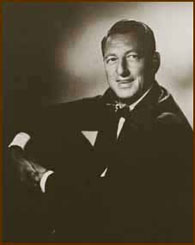 dancing schools and picked up a few routines from an old vaudevillian turned night watchman. He was later fired from a local bank when he took to clacking and tapping through the bank's corridors on errands.
After two years of intense practice, Ray landed his first big job, an appearance in the 1926 production of "Passing Show." In 1929, he was married to Gwen Rickard, an aspiring songwriter. Mrs. Bolger recognized that Ray was a potential phenom and immersed herself into guiding his career. Drama critic John Anderson had previously written "A very large pair of pants came onto the stage and did some of the most fantastic gyrations I've ever seen."
On Easter Monday, April 2nd Ray Bolger began his four-week engagement in the Empire Room of the Waldorf-Astoria.
Tips on Tables - By Robert W. Dana - April 5, 1956
As a dancer, Ray Bolger need apologize to nobody. As a singer, he gets by. As a pantomimist, he belongs in the top bracket. And as a humorist with a bubbling good nature that reflects itself in his infectious smile,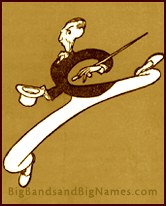 he ties his talents together for a solid show-stopping hour in the Empire Room of the Waldorf-Astoria.
Having met Philippe of the Waldorf, he feels he should pronounce it the Ompeer Room, but Yogi Berra advises it is best known as the Umpire Room. This good. natured nonsense is enough of an introduction to let him sing an ode to spring in New York, with the Chrysler and Empire State buildings in joyful agreement.
There are a great many facets to the Bolger personality. So often there emerges the portrait of the scarecrow he so winningly interpreted in "The Wizard of Oz," and with each of his dances he seems to include a facial characteristic to match its mood. There is a calm satisfaction as he brings back the old soft shoe from "Three to Make Ready," whereas he's cocky and all smiles as he dances to "Swanee River."
Cavalcade Has Comedy.
Cavalcades of the dance are not new to New York audiences. Ballroom teams have stayed in business on the strength of their popularity. Mr. Bolger, gives his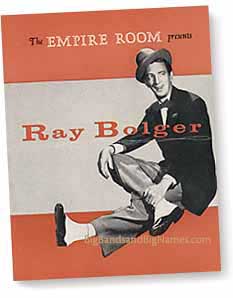 cavalcade with much comedy as a background for his dance skill. Charleston, black bottom and the conga recall many light hours. He calls the rumba the Murray dance, "not Mae but Arthur," and gives a wonderful pantomime of typical Americans doing the dance.
Another classic pantomime is his picturization of Tony Galento fighting Joe Louis. With this potent audience warmer over, he re-creates the memorable Sad Sack character he used to entertain troops overseas. The audience claps as the orchestra plays "Stars and Stripes Forever," and Bolger, his rifle threatening, declares an open season on clappers who don't stop when he shouts "halt!"
He comes to the inevitable "Once in Love With Amy" the song he made famous in "Where's Charley?" that has become his theme. He sings it, dances to it, then he asks the audience to sing it very softly as he dances, tossing them the lyrics a line at a time ahead.
Dances With Customer.
Last in the program come the first request is for the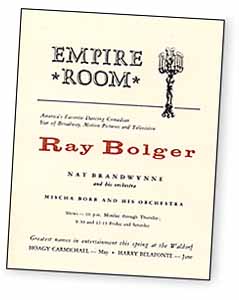 scarecrow number. When the Easter parade is recalled, he draws a pretty girl from a ringside table to be his partner and turns a dance into a jolly, flirtatious affair that concludes with a kiss on the girl's cheek. This is one autograph she won't forget for a while.
Ray introduces his musical director and pianist, Edward Scott, and acknowledges the fine work of Nat Brandywynne's orchestra. He concludes a very winning performance by stating that,"like a delicatessen store. I hate to let the ham go."
And go he must, until another night. He appears at 10 p.m. Mondays through Thursdays, at 9:30 p.m., and 12:15 a.m. Fridays and Saturdays.