A dyed- in-the-wool country boy, Burl Ives came from a sharecropping family in Southern Illinois. He was singing for his supper virtually since the age of four when he was handed a shiny half dollar by a Civil War veteran for chanting "Lord Thomas and Fair Eleanor". Reluctantly going to high school, he enjoyed football and made the All-Conference team as guard (another report was fullback). After three years at Eastern Illinois Teacher's College, Burl got bored, grabbed his guitar and hit the road for New York's Greenwich Village cafes. Some time after this, he became known as "The Wayfaring Stranger" because of the title of his radio program.
The touring minstrel, because of his success in "I Married An Angel," "The Boys From Syracuse" and other popular Broadway musicals and legitimate shows, had to remain in New York for longer periods than he would have liked. His first film "Smoky," was a Hollywood moneymaker.
Ives had a difficult time winning over this Persian Room crowd. He, along with Bob Grant and his orchestra and Mark Monte and his Continentals played two shows nightly except Sundays. New comedian Wally Cox (of Hollywood Squares fame) worked the late show.
Tips on Tables - Robert W. Dana - estimated date 1951
Just as casual as he sounds over the radio and on records is Burl Ives, performing in the thatch of hair and wearing a red corduroy coat to contrast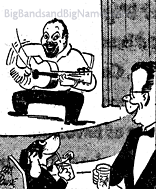 with his dark evening trousers, the popular balladeer is a picture of unconcern.
Not many entertainers are able to hold an audience and yet be so detached from it. After each number he bows in each direction and acknowledges his audience politely, but it is obvious that far more important are his well-used guitar and the particular song he is singing.
Burl, by the way, has, a sure way of not forgetting what songs he knows or in what order they come best, for his repertoire is pasted on the back of his instrument.
Audience Is Cold.
In spite of an unruly, downright cold, audience in the Persian Room the other night, I enjoyed Ives immensely. He started out with a laugh-provoking number called "When I Was Single," in which, he relates how between marriages he was always happier.
Next was "Foggy Foggy Dew," an American folk classic. Then he prefaced "Erie Canal" by telling of the early days of the canal when the boatsmen, safe from the elements as a seal in Central Park Zoo, ang exaggerated tales of their courage in the face of brutal storms.
The English music hall number, "Little - Tin Soldier," is a delightful song story in which the characters in a store window come to life and draw a parallel with living characters. The tin soldier isn't acceptable to his lady fair, for instance, as he's marked for 29 cents and she for 63 cents.
Coaxes Them Along.
Getting an audience to participate in a musical number is a tricky gimmick, sometimes it works and sometimes it falls flat on its face. Hildegarde, who has had tremendous success with it in this room, is at one extreme, Ives is at the other. First he sings "Going Down the Road Feeling Bad," three times, following with lyrics "I Ain't Going To Be Treated Thisaway. Next, he leads Bob Grant and his orchestra men in singing the number and finally the customers join in naturally. A swell number.
Some Of the other numbers Burl Ives sings are "Who's Going To Stir Your Gravy When I'm Gone," "Venezuela," "Blue - Tall Fly," "Smoky," "Eddy Stone Light" and "'Tell Me Your Story." "Eddy Stone Light" is an amusing story about how the singer's father married a mermaid and his brothers were a porpoise and a porgy who wound up on a chafing dish. "Tell Me Your Story," in which Ives sings only with a spot, is a wonderful ballad. You'll be hearing lots about it.
Wally Cox a Hit.
An added starter for the Persian Room's late show only is Wally Cox, young comedian making such a hit In Broadway's "Dance Me a Song." Here is a refreshing type of entertainer, whose stock in trade is being even more unconscious, but consciously so, of the audience than Ives. He must be absolutely deadpan and he must have quiet from the audience.
The customers didn't cooperate the other night and the young man correctly didn't come back for an encore but before he left he managed to get some hearty laughs with his first two numbers the first in which he talks about molecules in scientific terms, and the other in which he relates the woes of a friend who keeps having his nose broken because he never learns to duck. He can be hilariously funny when you let him.
There are two shows nightly except Sunday in the Persian Room, the first at 9:30 p. m. and the second at 12:30 a. m. Bob Grant and his men play the show and, alternating with Mark Monte's lively Continentals, offer excellent music for dancing.
Tavern-on-the-Green is serving a 3.95 shore dinner Fridays from 5 to 9 p. m. ... Gene Seville, owner of Casa Seville, returns tonight from a 10-week vacation in Miami, The current show at his club includes Janie Ford, Johnny Contado and Dave Karr ... Ted Lewis will bring his revue to the Copacabana next Thursday. Laura Leeds, whose real name is Jesse Crawford Jr., is now playing the piano and singing in the Shelton Corner as a result of a search by Paul Taubman, leader of the Toptones Trio playing there.
"Ballad singing has been going on ever since people sang at all. It comes up like an underground stream and then goes back again. But it always exists." - Burl Ives.