Tips on Tables - Robert W. Dana - January 7, 1957
"Everything Glenn Miller ever played lives on," says Ray Mckinley, featured director of the new Glenn Miller Orchestra, which opened Friday in the Cafe Rouge of the Statler, scene of the late bandleader's greatest triumphs.
It was natural for the Glenn Miller estate and agent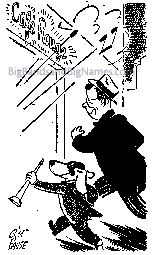 Willard Alexander to select McKinley to organize and head the new band. Ray had been a charter member of the Glenn Miller Mutual admiration society ever since they met some years ago in Ben Pollack's band.
Sound and Spirit.
Ray, an Air Force sergeant with the band when Miller was reported missing in 1944, took over and kept the band playing until his discharge from the service. Now, after having had his own band,. followed by a term as a Texas disk Jockey, he has put together a group of top musicians who are recreating the sound, and the spirit of the original Glenn Miller Orchestra from the original libary.
From the. opening strains of "Moonlight Serenade" and on through the evening customers of the Cafe Rouge may dance their limit, with the clock of memory turned back, to 60 Miller originals, 10 McKinley standards, 10 "pops" done a la Miller and three pieces by the Lennie Hambro quintet, featured with the new orchestra.
Hambro, a top jazz musician, who in 1951 had played lead sax, jazz clarinet, jazz alto and with the Ray McKinley band, was delighted to go back to work as part of the exciting orchestra.
Requests pour in with some momentary puzzlers to McKinley. It turns out that Glenn Miller had played it, and It happened to be the customer's favorite. But there is no scratching of the head when they ask for such tunes as "Little Brown Jug," "String of Pearls," "In the Mood" and "American Patrol." To keep up to date new material has been added, with arranger Joe Cribari using the familiar Miller technique.McKinley Numbers.
Other requests are for numbers made popular by McKinely, ones like "Down the Road a Piece," "Celery Stalks," "Airizay," "Scrub Me Mama With a Boogle Beat" and "Beat Me Daddy, Eight to the Bar."